Avoid buyer's remorse: Tips for choosing the right souvenirs
No one wants a wonderful vacation to end, so what do we do? Take a little piece of the magic home with us as a souvenir, of course. But how magical are your typical shot glasses, fridge magnets or gaudy frames?
Keep the charm of your travels alive (and avoid souvenir buyer's remorse) with these destination keepsake ideas.
Look locally
Flea market finds are an easy way to bring the local culture back home. Consider artisan products, such as
pottery
, artwork or other
handmade goods
. Before making your purchase, get to know the product. Check for an artisan signature or stamp to ensure your piece is truly unique. Then, strike up a conversation with the vendor; ask about the artist or learn how the piece was made. Half of the souvenir's uniqueness is the story behind it!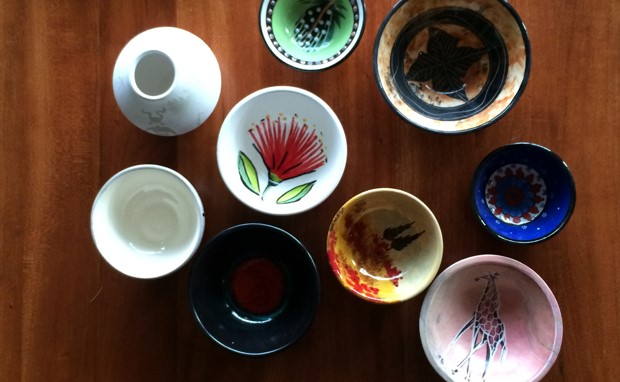 Find unique products to bring a little piece of culture home with you.
Embrace experiences
Another way to capture the memories of a great trip is to focus on the experiences. If you're an avid beach bum, display a sample of the
sand in some apothecary glassware
or a handful of
shells in a mason jar
. Did you laugh 'til your sides hurt when the family made a mess eating crab together? Bring home a (clean) crab shack bib.
Bind together
maps, concert tickets and other paper mementos. Even foreign money makes for a great souvenir when collected in a jar or
arranged in a frame
.
Inspire with imagery
Photos can be among the most beautiful ways to bring your travels home without taking up valuable space in a suitcase. When I traveled to Malaysia, I couldn't exactly pack up a
decorated bicycle
to bring back with me — but the photos make me laugh every time I see them! Here are a few tips for making the most of vacation snapshots:
Be more photographer and less tourist when you're taking the photos. Think close up, tight angle shots of monuments or cityscapes or interesting foreground elements in landscape images.
Be creative with the frames and their placement on the wall. Break up the clean lines of square frames with round ones and vary the frame sizes. Put those Instagram photos to good use and create a poster or collage on Prinstagram. Awesome, right?
Mix up the wall elements with other items, such as masks, signs or mirrors.
These charming displays are a neat way to recapture vacation inspiration long after your return. How else have you displayed your travel souvenirs? Share ideas in the comments!