About Sauder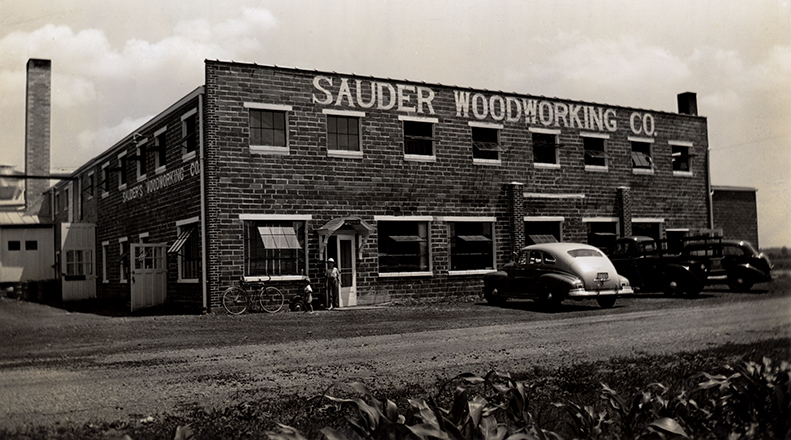 The factory in 1937 at 502 Middle Street, the same site Sauder Woodworking is located today.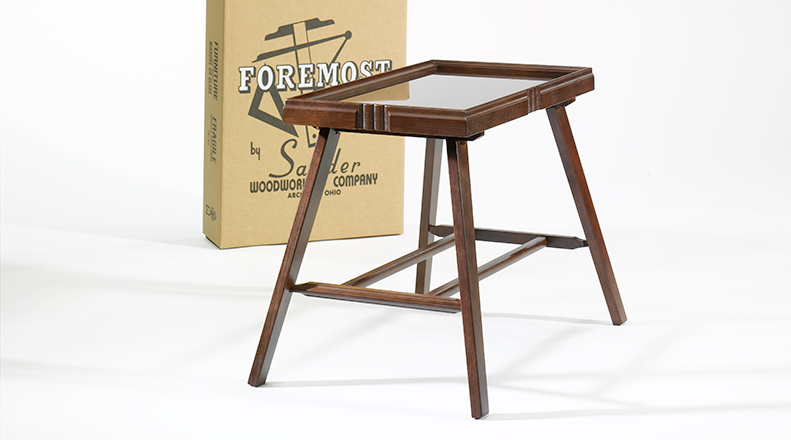 First ready-to-assemble table in 1951. Patented in 1953, a new furniture industry is born.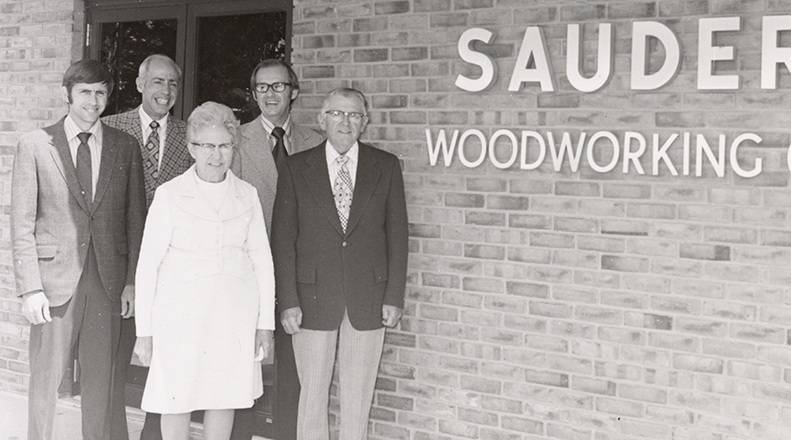 A family business, 1965, from right to left: Erie, president; Maynard, general manager; Leona, secretary; Delmar, factory worker; and Myrl, engineering R&D.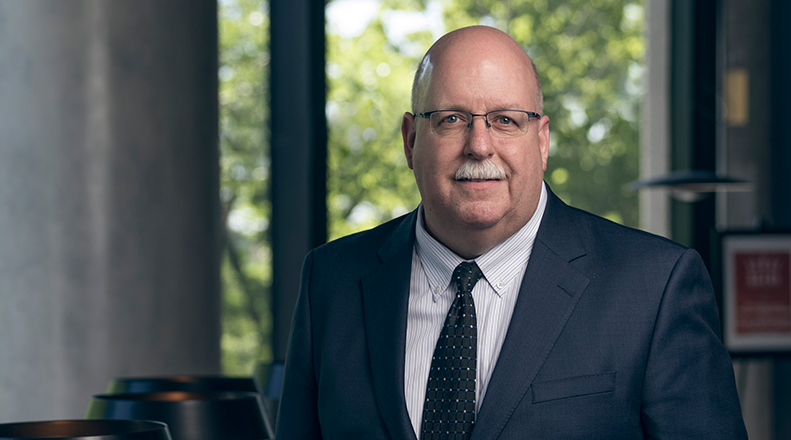 Third generation leadership – Kevin Sauder, CEO.
It's All in the Family
History of Sauder Woodworking Co.
In 1934, Erie Sauder started a woodworking business in a barn behind his home in Archbold, Ohio. Originally a builder of custom cabinetry and church pews, he began crafting small occasional tables from the fine, leftover wood. In 1940, the workmanship of these tables eventually inspired a traveling salesman to place an astounding order of 25,000 — a seemingly impossible purchase order for a budding company. But with a little ingenuity and a lot of determination, Sauder Woodworking Co. grew and flourished. Fast forward to 1953 for Sauder to find the answer to its calling — a patented table that could be assembled at home. And it was this snap-together table that marked the beginning of the ready-to-assemble furniture industry.
Oh, and it's "Sow-der." You know, like "chow-der." Just saying.

Company Profile
Sauder Woodworking Co. is North America's leading producer of ready-to-assemble (RTA) furniture and one of the top five residential furniture manufacturers in the United States. An authentic American original, a majority of Sauder® furniture is manufactured in Archbold, Ohio — right where we were founded in 1934. Although the town is small (pop. 4,300), our footprint is expansive. With some of the most technologically advanced equipment in the world, our local facilities encompass nearly 4 million square feet of space, employ about 2,000 workers and house a wide variety of local and imported materials. Sauder also sources furniture from a network of quality global partners, all supported by domestic warehouses in three strategic locations.
Sauder markets more than 60 distinct furniture collections in a full line of RTA furnishings for the home, including entertainment, home office, bedroom, kitchen and storage. Other market segments include: Sauder Commercial Office™, a line of office furniture under the OfficeWorks® and Worksense® brands; Sauder Cabinetry™, a line of frameless kitchen cabinets for single and multi-family residential environments; and WoodTrac®, a line of closet systems for residential and commercial markets.
Sauder is a privately held, third-generation, family run business. Subsidiaries include: Progressive Furniture Inc., a designer and importer of wood bedroom, dining and accent furniture; and Sauder Manufacturing Company, a leader in worship, educational and healthcare seating and contract furnishings. With its 2,400 employees, the Sauder family of companies generates sales of over $600 million annually.
Ready-to-Assemble Furniture
We know what you're thinking — why would anyone want to assemble their furniture?
Well, if a hammer, screwdriver and a little help from us can equate to a lot of benefits for your budget and style, why wouldn't you?
Ready to assemble now?

Good Furniture Warranty
Good furniture deserves a good
warranty
. That's why we back our work with comprehensive coverage on each and every piece of Sauder furniture. How's that for customer satisfaction?