Blogger Confidential: Carrie & Alicia
One of the things we love about home styling is that everyone has their own unique perspective based on their lifestyle and personality. That's why we teamed up with some of our favorite home décor bloggers to create the
Put Together Lookbook
— our inspirational wonderland of photos showing how to put together your style and make a piece of furniture all your own.
But to dig a little deeper and get to know the stylists behind the styles, we introduce the
Blogger Confidential
series.
Let us introduce a few of these fabulously stylish forward thinkers. To help you get to know them, we asked them both:
What would you call your personal style? And how did that start to develop?
Carrie Waller of
Dream Green DIY
I'm definitely a midcentury modernist. I cave under even the slightest provocation from a vintage, 1960s silhouette. I'm always drawn to
modern lines and contemporary flair
— quirky
thrift store
conversation pieces practically litter our home! I think this all started to develop at an early age. My little sister and I grew up watching old movies from the '60s, so I think my fascination with midcentury design started then.
Alicia Lacy of
Curbly
I probably align with a
traditional style
with lots of midcentury design influences. I love the clean lines and wood tones in midcentury design, but I also love soft edges and lots of cozy texture. I think my style developed through a lot of trial and error. Over the years, I have dabbled in everything from minimalist modern to shabby chic — sometimes at the same time. I now accept the fact that I am easily influenced by trendy design, but rather than try all of it on, I've learned to look for the classic pieces within these trends and incorporate them into my home in bits and pieces.
All right, let the Blogger Confidential begin!
Carrie, how do you transform an average piece into something that's uniquely you?
The transformation always starts with a light bulb moment. I like to think of my process as problem-solving — I'll see an old piece of furniture that needs help, and then I'll think about what I can do to bring it back to life. Is it new paint on a dresser? Could I replace the legs of the table to give it a newly updated shape? What if I turned that crate on its side to get the look of the one I saw in that designer magazine? Once I have a vision, I work backward and think about the materials I'll need and then the steps, and then it's a mad dash to the finish line from there!
OK, Alicia. You're up. What's your most coveted design element or piece in your home?
This is a little like being asked to choose your favorite child — it's almost impossible! There is set of
Bertoia chairs
that my husband and I purchased a few years ago that make me very happy. I'd been looking for a pair of Bertoia chairs for years, but they were always too pricey, too damaged or too far away. After scouring Craigslist for years, I finally found a set of chairs about an hour from our home. They were in rough shape but totally restorable, and they were $200. That price is unheard of in the Bertoia world (a single chair can easily be $450 or more). We met the seller in the parking lot of an Arby's in the middle of nowhere and loaded the chairs from her conversion van into my little hatchback, and they've been ours ever since. We had them sandblasted and powder coated and they look gorgeous. We have them set up in our sunroom and, like a favorite child, they will be ours forever.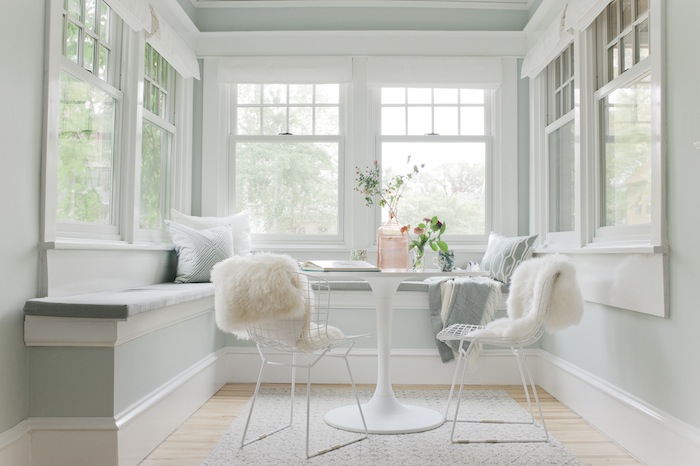 Wow. And to think they met these beauties in an Arby's parking lot!
Your turn, Carrie. What advice do you have for people who don't know where to start with styling a piece of furniture or a room?
I always suggest starting with a totally blank surface. Take everything off of your shelf or tabletop, and then add back in the large statement pieces. Then layer in the medium-sized accents, and finish with a few thoughtful, tiny details. I also keep three things in mind: Add in a
natural element
(flowers or greenery!), work in groups of three and keep to a consistent
color palette
or cohesion.
OK, Alicia. We have to know — what home décor trend (style, color, arrangement or piece) would you be OK saying goodbye to?
I think I'm over chevron. Is that controversial? Can we still be friends? Let me explain. I love the idea of chevron and for a time I had a fair share of it in my house. I think it's one of those bold, beautiful patterns that has its place in the design world but has been way overdone. Like
Kim Kardashian as a blonde
, it's gone a little too far, and I'd love to see it take a break — or stick to throw pillows and dish towels for a little while.
In our next
Blogger Confidential
, a new set of beloved bloggers will divulge their design and décor secrets. In the meantime, check out the
Put Together Lookbook
to see how Carrie styled her
Soft Modern Occasional Chair
and a couple of
Cottage Road Spindle Chairs
. Then take a peek at how Alicia and her colleague Bruno turned the
Soft Modern Credenza
into a piece that was totally unique. Want another great Curbly styling example? Check out this beautifully decorated
Soft Modern Tower Bookcase
.