New Ways to Use Your Dresser
What holds your clean clothes, serves your buffet dinner and contains your hobby room clutter?
If you guessed a dresser, you've been reading my mind!
Last week, Hannah kicked off our
Double Take
series by finding new ways to use accent seating from around the home. Now it's my turn, and I have found five ways to transform a dresser into a handy piece of furniture that can fit in almost any room of the home. Just not all at once, of course.
Buffet
Instead of splurging on a fancy sideboard or buffet for the kitchen or dining room, use a dresser for displaying and serving dinner or desserts when
entertaining guests
. Here,
Emily from 52 Mantles
uses a buffet to display cookies and cupcakes at a baby shower.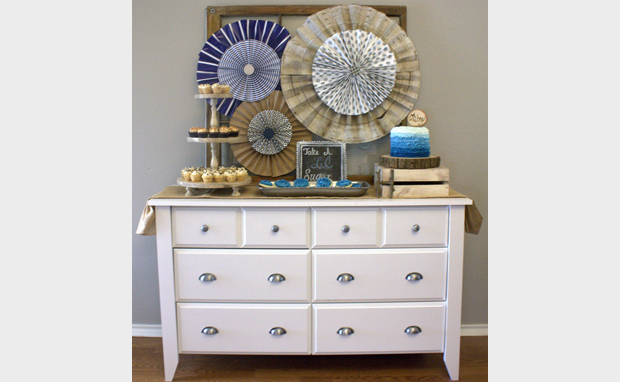 Craft and sewing station
My wife just loves this one. In fact, we've put this to work in our home, where she uses a Shaker dresser I made 20 years ago for
craft storage
. While some dresser drawers are on slides and runners, if your dresser drawers sit on a shelf, you're in luck! You can remove some of those drawers and insert bins or baskets for small, easy-to-lose supplies like rubber stamps, scissors, thread or extra bobbins. You can use the dresser top as extra workspace, too, by putting
two dressers of the same height
together with a piece of MDF to create a complete craft or sewing station.
Entertainment or media stand
All good entertainment stands have plenty of storage. So do dressers. Isn't that lucky!?
Refurbish
a dresser and make it into an entertainment or media stand by taking out the top drawers for your electronic components. Store DVDs, video games, controllers and anything else in the drawers of your new
dresser-turned-TV console
.
China cabinet
If your kitchen cabinets are filled to the brim with the dishes and serving utensils you use every day, store fancy dishes, silverware, large serving platters and linens in dresser drawers. Hang shelves above the dresser for added storage and to complete the china hutch look. Use the dresser top as a bar when entertaining or for a buffet, just like
Aliesha from Feathers in Our Nest
did here.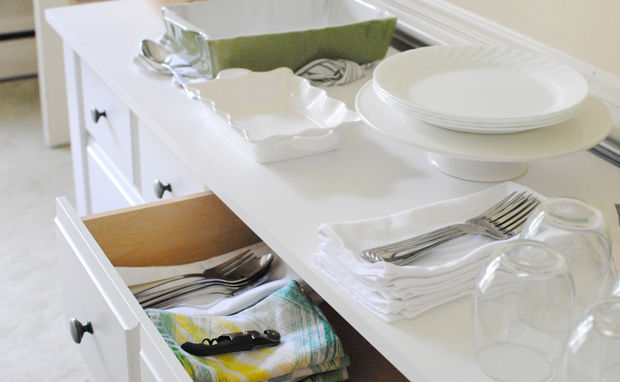 Kitchen island
Just add some tile or butcher block on the top and hang hooks on the side and you've got yourself a
kitchen island
. If your dresser has an unfinished back (many of them do), use some paint to give it a finished look, or if your space allows, put two dressers back to back for double the storage. The dresser drawers are ideal for storing cupcake tins, cookie sheets or Tupperware. Even better, make your dresser into a bar or
kitchen island and bar combo
, complete with stools for relaxing. It's a kitchen storage, prep space and entertaining solution in one.
Sometimes it's not the use of the dresser that's unique, but where you put it. A dresser in the living room can store extra blankets or board games. In the entryway, it can serve as a catchall for keys and purses or mittens and scarves as the weather gets cool. In the bedroom, try the dresser at the foot of the bed like a bench or chest. Nobody says that a dresser only belongs against a wall in the bedroom. Just ask Roeshel (
DIY Showoff
) and Barbara (
Chase the Star
)!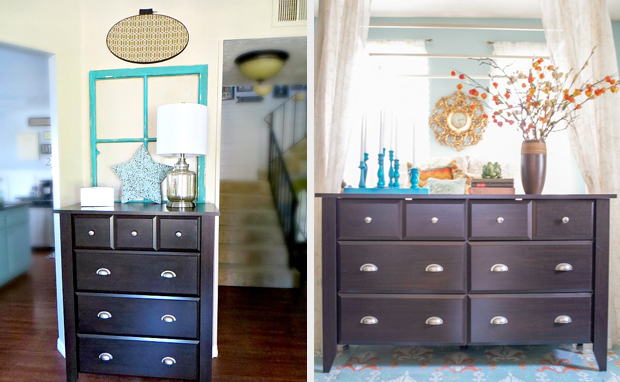 If you're looking for even more ways to use your dresser, check out these ideas from some of our favorite bloggers:
Lori with More With Less Today
and
Kristi with Addicted 2 Decorating
.
Now it's up to you! Help us pick what piece of multipurpose furniture we'll highlight next — bookshelves or coffee tables. Tell us in the comments, and we'll share our ideas on the winner next month.
Top images from
Domestic Fashionista
and
52 Mantels
.