Double Take: side table
According to
Merriam Webster
, a side table is a table designed to be put against a wall.
This may come as a surprise to you, but I've never been a "by the books" kind of guy. And it's a good thing, because I couldn't disagree more with this dictionary definition of a side table.
If you ask me, a side table doesn't need to be put against a wall, and it doesn't need to be put along
side
anything.
In this edition of the
Double Take series
, I'm sharing a few more ways to use a side table. Because there's no need to put that
baby in a corner
.
Night stand
When you think about it, side tables and night tables are really interchangeable. They're similar in height and many have one or more drawers or shelves. Use a colorful side table as a funky accent in a kid's or guest bedroom. There's just enough room for an alarm clock and a book or two. See how Michele from
The Scrap Shoppe blog
paired a
modern yellow side table
with a matching yellow clock in her son's bedroom? It's a perfect fit.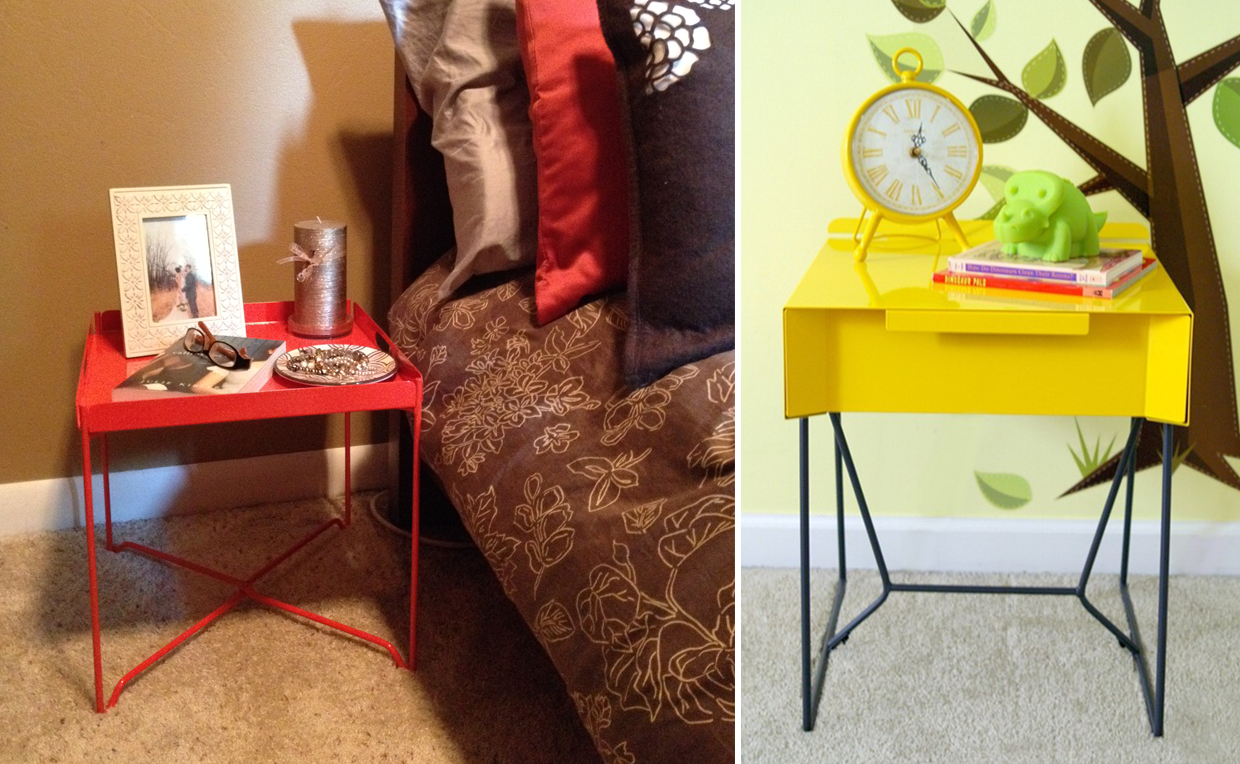 Kid's play station
The thing about side tables is that they're just the right height for kids. Create a play station for arts and crafts or a desk for drawing and coloring in the
kid's room
, like Michele from
The Scrap Shoppe blog
tried with her modern side table. A
table with a raised edge or lip
will keep the crayons off the floor. Pair it with a few chairs, like
Shawn
did for his son and daughter, and you're set.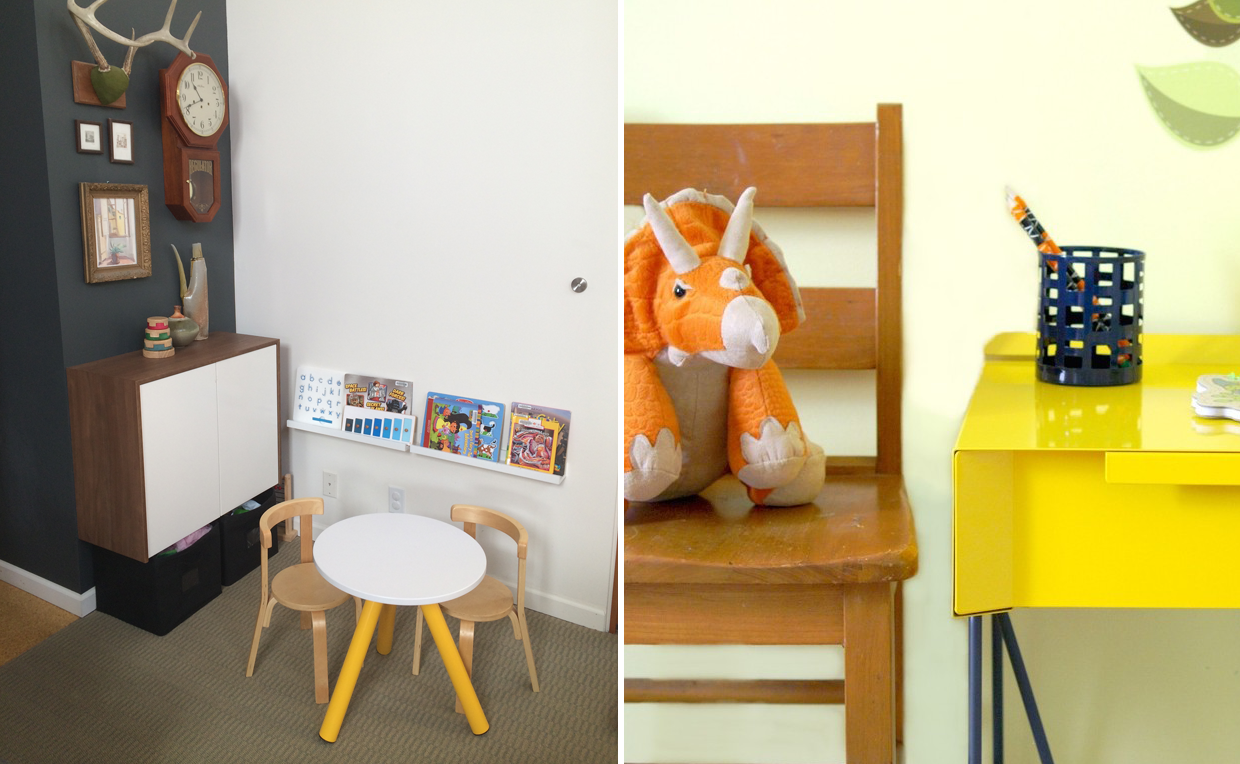 Outdoors
Of course, you won't want to leave your side table outside year-round — or even overnight for that matter — but a metal folding
tray table
is great for going outdoors. Use it by the pool, around a campfire, or even at a tailgate. You'll probably want to wait until the snow melts to try this one, though!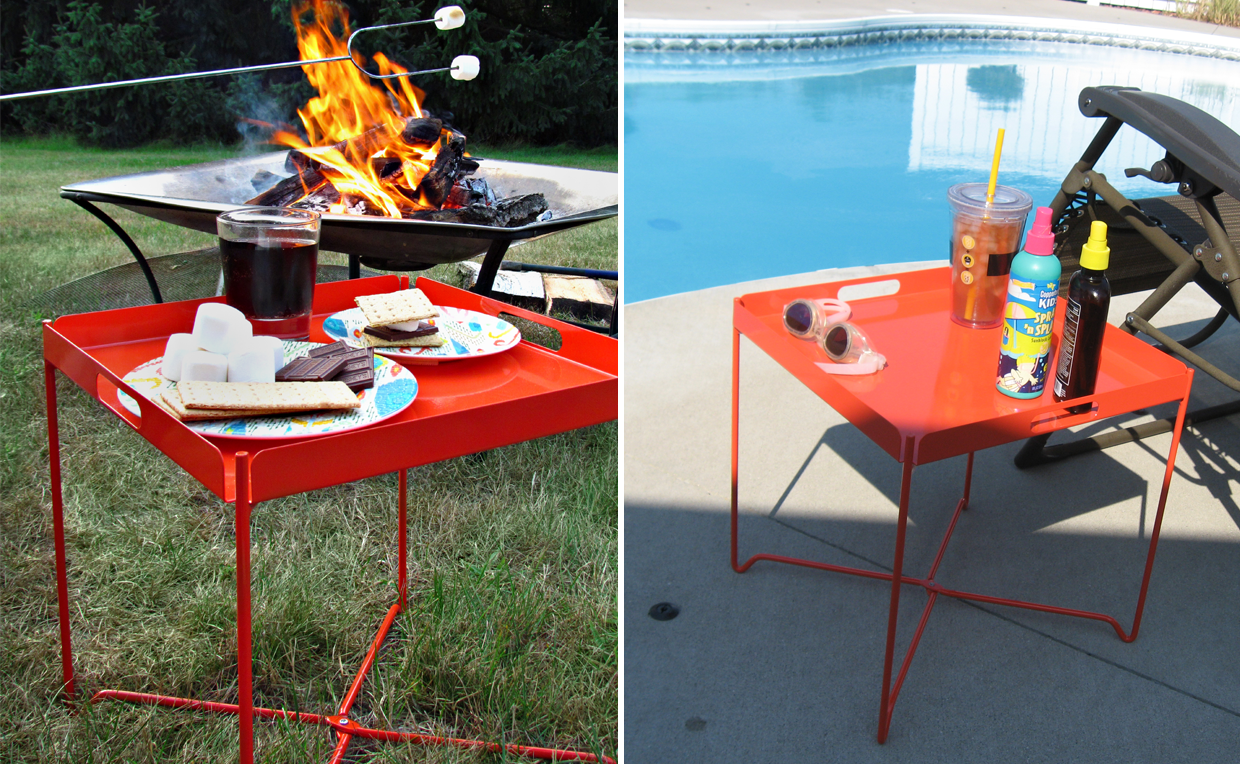 Reading nook
Maybe it's a cozy corner in the living room. It could be a lonely space in the bedroom. Pair a comfy chair with a side table for a simple reading nook anywhere in the home. Keep a few magazines, your favorite book, a small plant or a piece of artwork on display.
Pretty in Providence
blogger, Sarah, and Megan from
Megan Brooke Homemade
each paired an accent chair with a side table to create a stylish reading nook.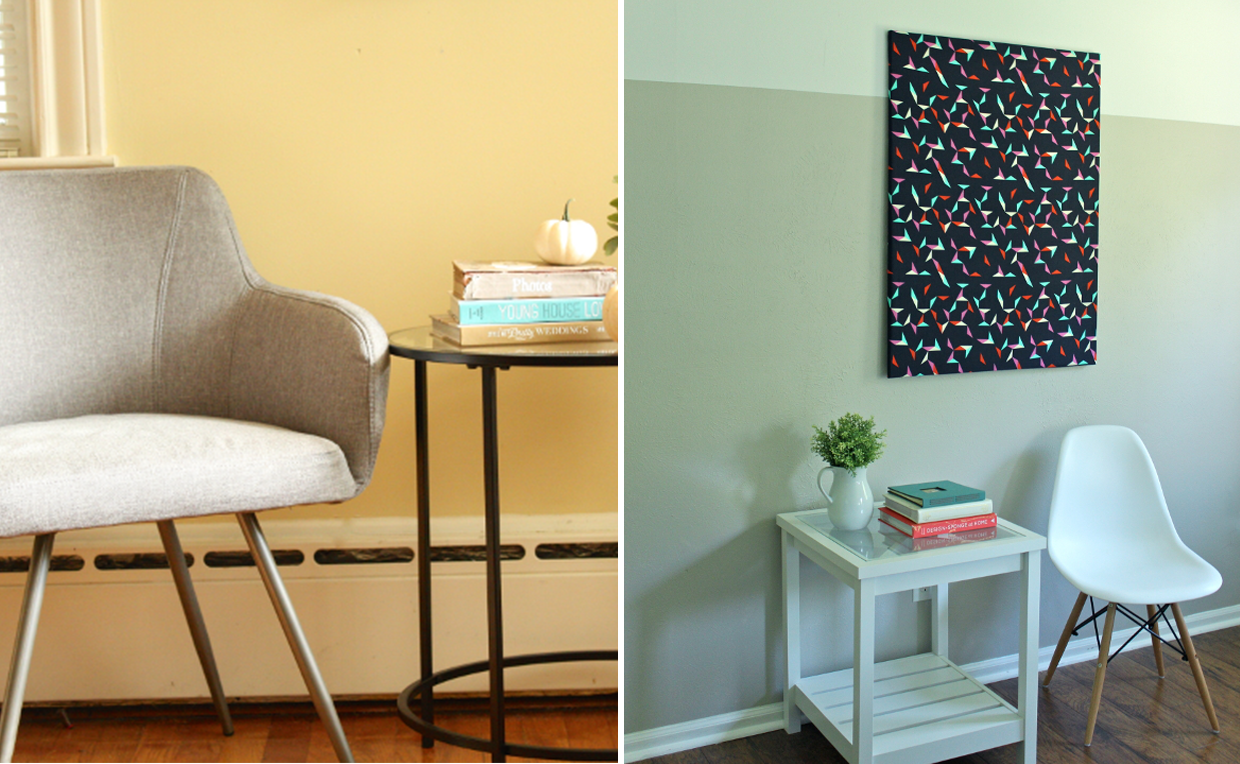 Kitchen and bar tray
A side table with a removable tray top is the best of both worlds — it's a table and then it's a tray. Take the tray top off and use it as part of your bar cart for entertaining or bring it into the kitchen for your baking and cooking supplies, like
Hello Natural
did. It can work great for serving cocktails, too (wink, wink).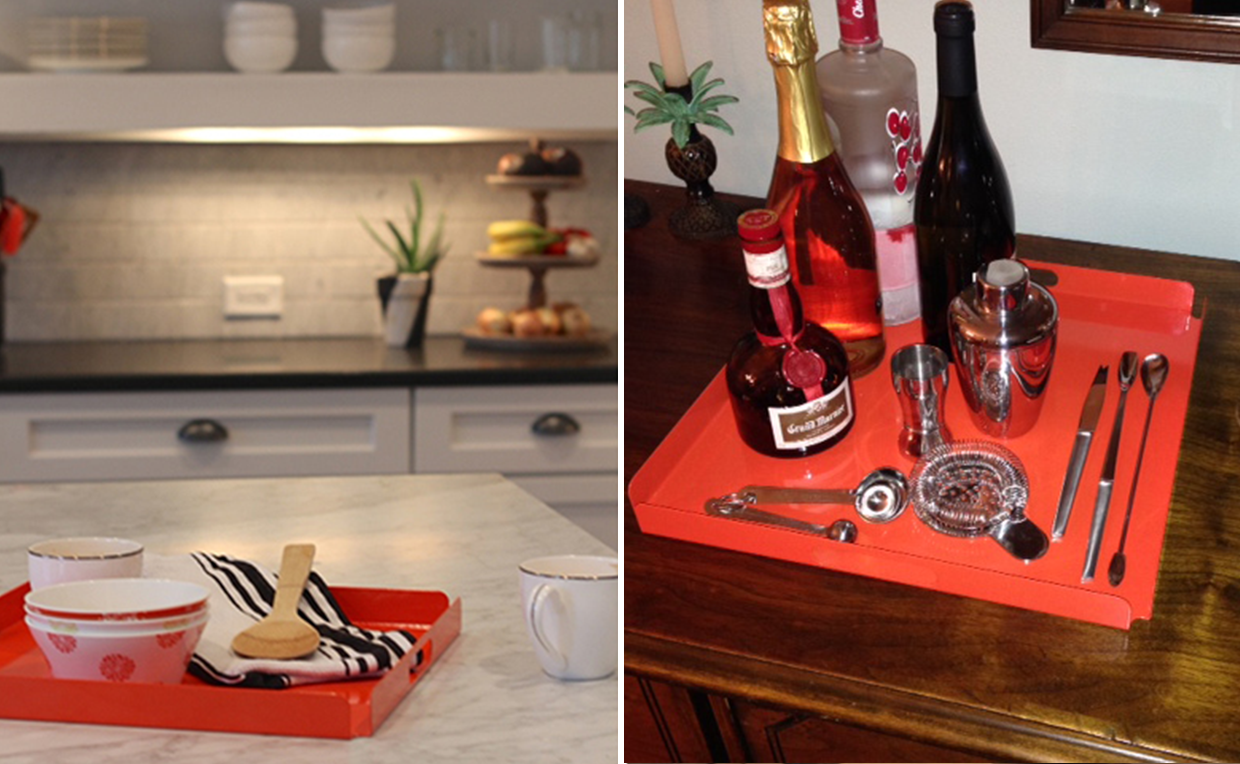 Festive front door display
I know it's too soon to start thinking about the holidays again, but these blogger ideas were too good not to share.
Pretty in Providence
and
Worth Pinning
bloggers both used side tables to dress up their front door or entryway for fall. Really, you can do this for any season. For spring, try using a side table as a plant stand to greet guests. Just make sure your table is sheltered from the elements if it's not made for outdoor use.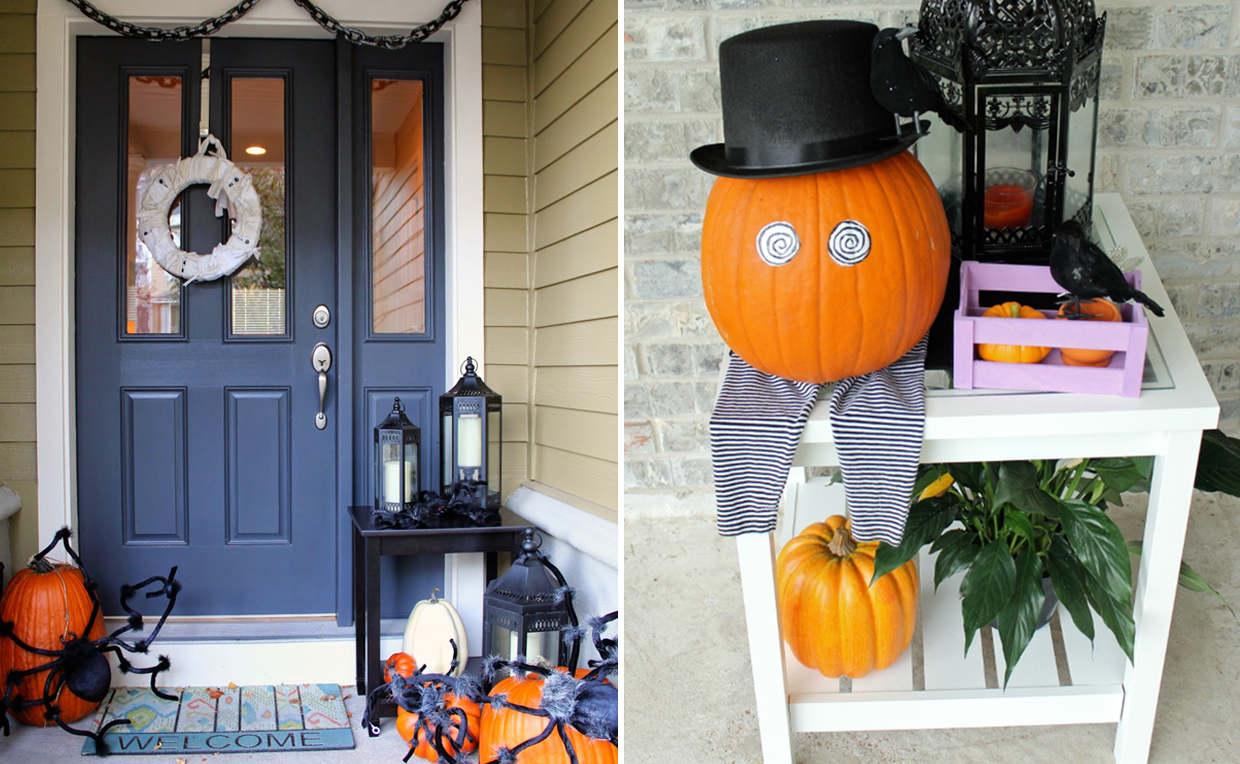 See, I told you side tables were meant for much bigger and better things than simply being put against a wall. It sure makes you wonder what other versatile furniture you're not using to its full potential.
Find new uses for
bookcases
,
dressers
and
accent seating
in the
Double Take
versatile furniture series.
Top images from
Hello Natural
.