Even sawdust can have a second life
We can't get enough sawdust. If you've ever done any amount of woodworking, you know how messy sawdust can be. It can get everywhere. Serious woodworkers may even hate the stuff. But not us. We embrace it! Here's why.
Over the years, we've figured out how to take something that once was a nuisance and use it to benefit not only our bottom line but the planet, too. We're talking about sustainable reuse ranging from generating electricity to supporting the garden and the farm.
Turning trash into treasure
As we continuously analyze how much energy we use, we aggressively — and creatively — find ways to reduce our carbon footprint. Last month, we told you how our cogeneration power plant
burns more than 145 tons of sawdust each day
and converts it into electricity that powers production lines and heats buildings.
Sawdust is a carbon-neutral energy source that allows us to reduce our dependence on coal and the nuclear energy grid. The result? A cleaner alternative that benefits the tri-state area we call home here in
Archbold, Ohio
.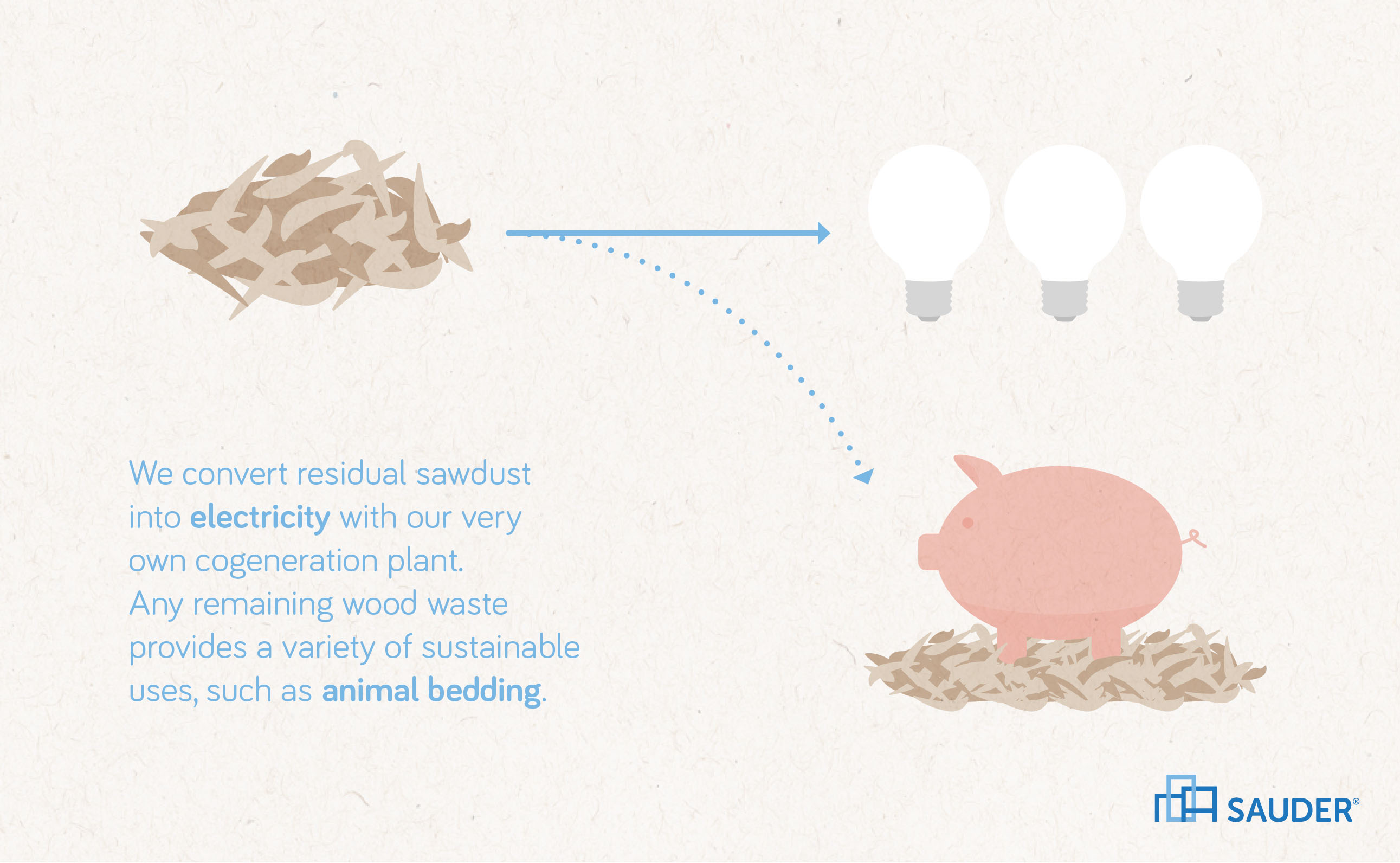 The remaining sawdust has other sustainable uses, some of which might surprise you.
In 2013, we provided more than 16,000 tons of sawdust to several organizations. Look at who benefits from something that doesn't need to be swept under the rug.
Rabbits — A neighboring alfalfa mill uses sawdust as fuel to dry alfalfa. They turn that alfalfa into pellets that rabbits and other small animals enjoy. Last year, the mill reused more than 12,000 tons of our sawdust waste.
Gardeners — Talk about sustainability! A local lime and stone company uses our sawdust as part of its carrier material — or filler — it produces for an organic fertilizer manufacturer.·
Livestock — Comfortable, clean and absorbent animal bedding equals happy cows. The alfalfa mill we work with resells some sawdust for use in animal bedding for livestock. Whether it's incorporated into wood chips or used on its own, sawdust has some pretty amazing absorbent qualities.
Kids — We donate some of the remaining sawdust waste to nearby horse farms. These farms provide children and families the chance to interact with and value animals, which encourages responsibility, therapy and recreation.
One man's trash is another man's (or animal's) treasure, right? That's the great thing about sustainability — there's always a
new and interesting innovation
around the corner.