Get Working: How to Organize a Home Office Space
As a designer, I like to personalize my home office with an
eclectic mix of unique and vintage pieces
. There's my desk, which was my father's very first desk he purchased for his new accounting business after World War II, and a custom painting of the Missouri landscape.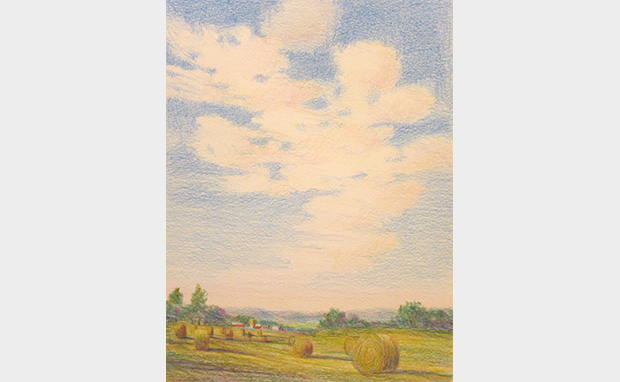 A functional home office doesn't need to be its own room, though separating work from play is ideal. For me, my home office is in a spare bedroom. Whether it's in the basement or tucked in a corner of the living room, ensuring it's organized will get those productive juices flowing! (Or at least finish the taxes sooner.) A small space is typical with a home office, making small office organization critical.
Through Sauder's "Get organized!" series, we've shared tips for decluttering some of the most high-traffic rooms in the home, including the
kitchen
and
kids' room.
With tax season upon us, let's explore ways to organize a less-traveled room, one that can quickly become a dumping ground for paper and other debris — the home office. Read on for some easy tips on how to organize a home office space.
Create enough work space for your tasks. Do you work from home or just need a place to sort and pay the bills? Choose home office furniture pieces that offer adequate storage and surface space for tasks and equipment. For me, small office organization means two very different work spaces within my office — one for traditional office and computer work, and another for drawing. To keep your space (or spaces) organized, go through the surfaces cluttered with paperwork and decide what can be recycled or filed. Remove items like lamps and office supplies from your work surface and use wall-mounted storage and shelving for pens, pencils and files.
Out with the old, in with the new. Avoid clutter (and hoarding). When you get something new — whether it's a pen or a printer — discard the old model immediately. Your local school or library would be delighted to have your extra pens, ink cartridges and other office supplies. Not sure what important documents to keep and which to shred? MSN lists eight things you can shred right away. Not only will this cut down on paper clutter, it could prevent identity theft.
Store by (office) size. Small home office organization requires more creativity to keep clutter at bay, but larger spaces offer their own challenges. In small spaces, transform blank wall space over the desk into a bookcase or file storage. In larger offices, be smart about how you use free floor space with wall cabinets and storage shelves. If desk space is at a premium, place lined baskets on bookcases to store staplers, pens and other small items. Change up the height of credenzas and larger pieces to keep things visually interesting.
Out of sight, out of mind. Even with the help of 21st century technology, it's easy to forget things that aren't in front of us. Corkboards are an old-school but effective way to display important papers, household calendars or other reminders. Create your own organization system with colored tape to block off tasks, or use colored pushpins for different items. Live and die by your smartphone? There are plenty of calendar and organization apps to help keep you on track.
Go to bed organized. By the end of the week, is your work space buried under piles of to-do's (and didn't get to's)? To avoid the weekly mess, spend 10 minutes at the end of each day straightening your office space and getting ready for tomorrow. It will reinforce good organizational habits and keep clutter-induced stress at bay! It doesn't need to be tax season to get organized in the office.
Tell us — what are your tricks for small home office organization?