Sauder makes furniture; people make the difference
You've likely heard it before — Sauder; it rhymes with "chowder." But what is Sauder, really?
So you know from our previous posts that our company was founded by a man named
Erie Sauder
, and you might even know that we care a lot about
sustainability
and doing what's right. Putting aside the facts and the figures, getting to know Sauder means getting to know the people.
It's the people who make Sauder Sauder. It's the people within the organization and in the surrounding community who have shaped our company into what it is today. And it all started years ago…
We've got a big, extended family
Our company is family-run, so, of course, we place great value in family. From the start, Erie and his wife, Leona, cared about their employees and created a familylike environment at the company.
Over the years, the relationships with employees helped the first Sauder generation persevere, despite the temptations to sell their business. Leona once wrote:

"Several times, the temptation became so great to sell out when we were offered a good price for the whole establishment that with one word of encouragement at the right time, it would have been gone … But each time after serious consideration, we felt we couldn't easily sever our pleasant relationships with our faithful employees, and we kept on."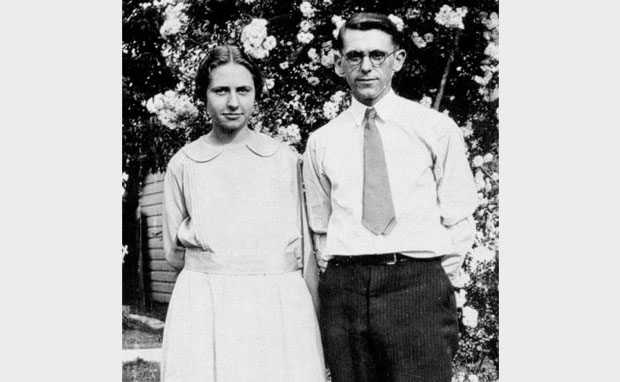 The first family of Sauder, Leona and Erie, set the precedent for today's culture at Sauder.
We do what's right for our people
Years before employee benefits were common in the workplace, Erie and Leona introduced benefits such as health insurance in 1951 and a profit-sharing program in 1968. In fact, at the time, the health insurance fund had few written guidelines, so Erie often explained it to new hires personally, one on one.
From there, the bar was set, creating a precedent of open communication throughout the company.
In 1959, Leona established a company newsletter to keep all employees — from the shop floor to management — informed. Well before the years of HR departments and intranets (or the Internet, for that matter!), Leona made a point to share the company's plans for development, along with items of personal interest to employees, to create a sense of unity and transparency.
These principles still guide us today. We help each other out through our voluntary Employee Emergency Relief Fund and with donations to causes our employees care about. Because to us, it's important to reach as many people as possible.
Erie knew what he was talking about when he said it's not about working for "myself" or "ourselves." It's about working for the community. It's about the people.