The Sauder Story: Sustainability — it's in our nature
In our first
Sauder Story
post, we introduced you to Erie Sauder's "waste-not" philosophy. Eighty years later, we are still driven by those same values of servanthood, stewardship and environmental responsibility.
The idea of responsibly using (and reusing) our resources is in our DNA, and it's in everything we do. Every day, from the factory floor to stores shelves, we aim to make our products and packaging more sustainable by focusing on
energy and greenhouse gases
,
water
and
waste and recycling
.
Sustainability is in our nature.
As a company, we're always looking for ways to do it better. Countless small improvements in our processes have helped us create better ways to do business. That allows us to make more affordable products for a better life now and in the future.
Simple enough, but how do we do it?
It starts with our sustainable products and packaging.
You'll find recycled content in our packaging materials. It complements our ready-to-assemble, flat-pack format, which makes shipping more efficient and cuts down on carbon emissions.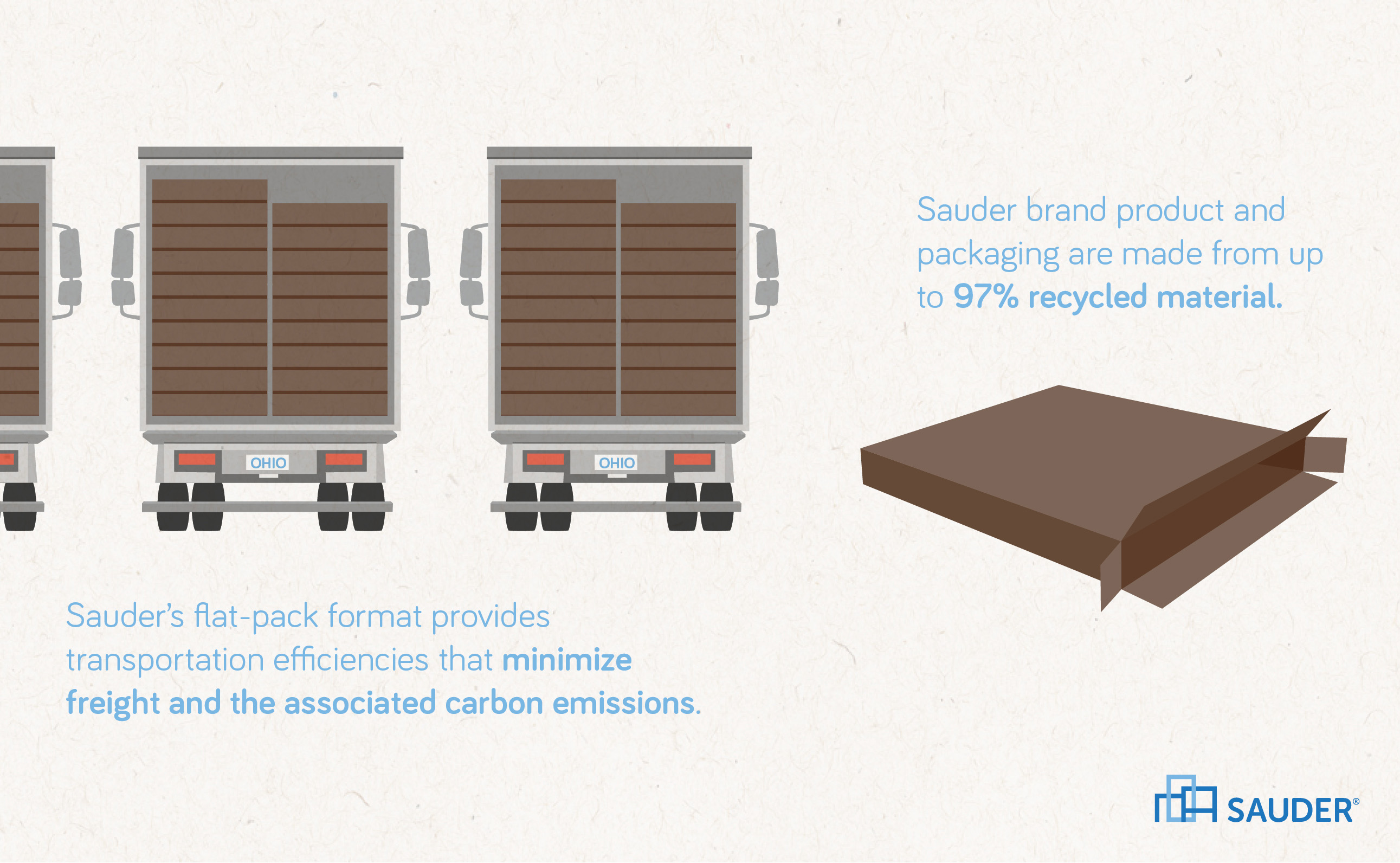 Even the wood we use to make our products is sustainable. Engineered wood (used for Sauder's wood panels) utilizes milling leftovers from farmed forests. The USDA Forest Service indicates about 63 percent of a tree can be converted into solid lumber. But when engineered wood and other products are made from the remaining wood, more than 95 percent of the tree can be used, reducing market pressure on old growth forests.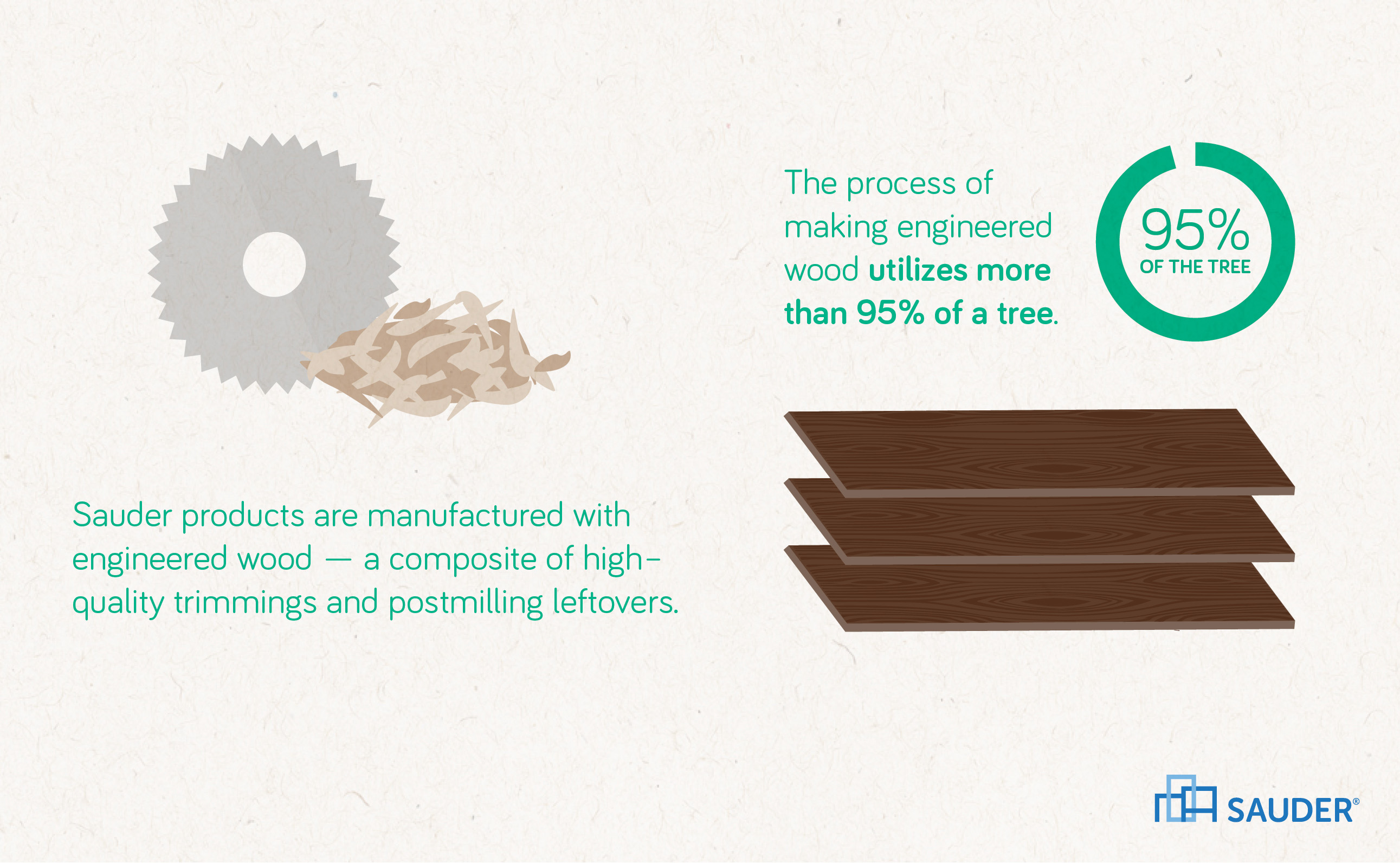 We take meaningful steps to reduce our energy usage and carbon footprint.
In 1993, we created a
co-generation
plant that converts sawdust into electricity. Today, the co-generation plant burns more than 145 tons of sawdust each day. Since 2008, we've greatly reduced our carbon footprint — or tons of
carbon dioxide equivalent (CO2e)
— largely through investments in energy efficient lighting and dust collection controls.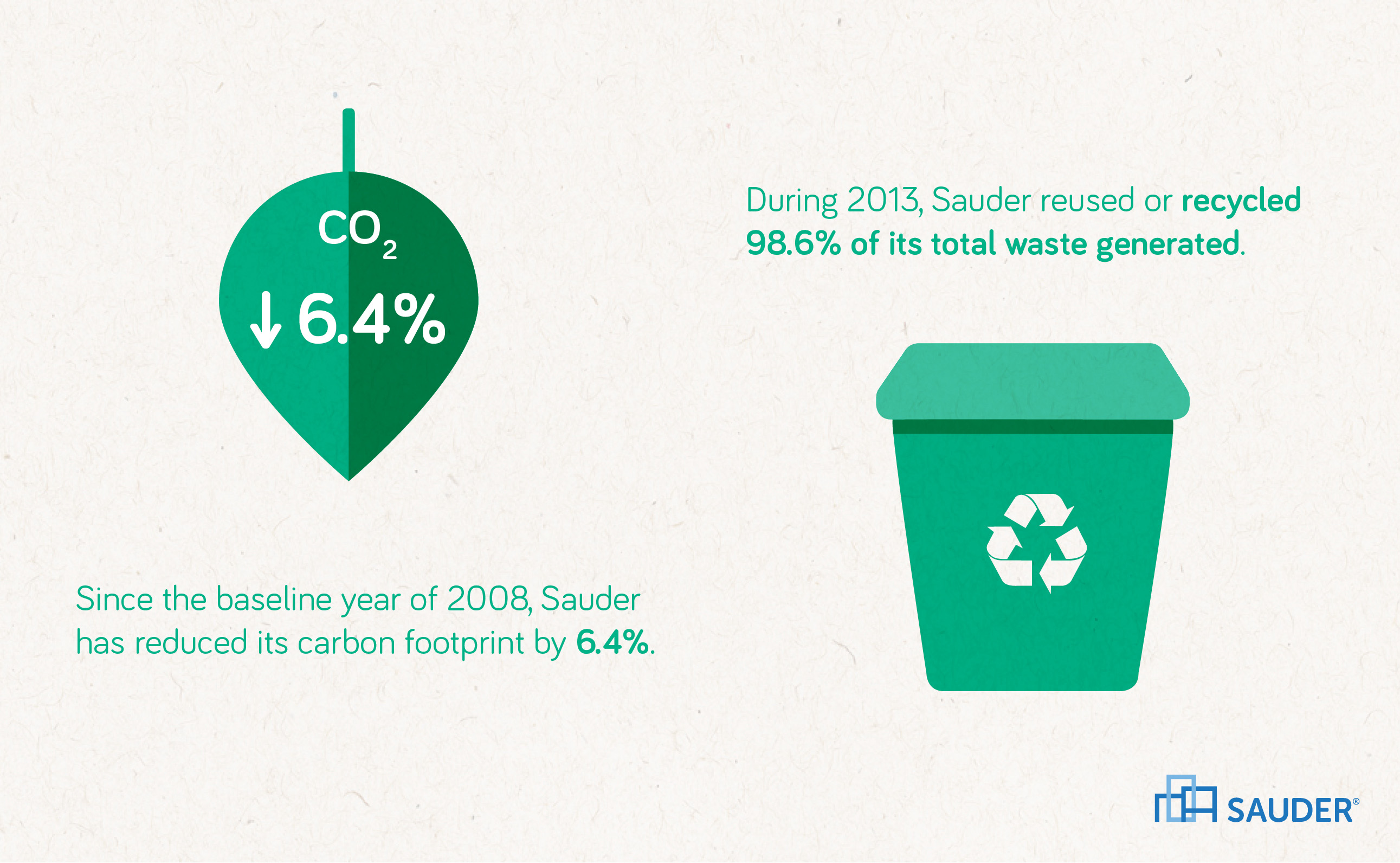 In 2012, we converted eight dust collection systems to the energy efficient
EcoGate
energy management system. We continued this project in 2013 and also installed motion sensors on lights in over one million square feet of warehouse space.
We're not stopping there, though. This year we'll continue to install EcoGate controls on the dust collection system. This multi-year project will help us reduce energy usage in dust collection by 40 to 50 percent.
Our water use is largely self-sustaining.
More than 90 percent of the water we use comes from the heating and cooling processes of our co-generation power plant. We use a
reverse osmosis (RO)
system to treat the water reintroduced into the boiler loop. Why does that matter? It eliminates chemical use and reduces the water used by the boiler by more than 800,000 gallons each year.
"Reduce, reuse, recycle" fuels our sustainability culture.
Erie Sauder's early adoption of the three R's — reduce, reuse, recycle — still guides us today. We look at incoming shipments to identify ways we can reduce packaging and non-usable material. We creatively reuse items and recycle lots of things, too, and our employees are vigilant about recycling around our manufacturing facilities.
Our central reclamation and recycling center has standardized many of our processes to help us find ways to recycle more materials. In 2012, for the first time in our history, we recycled more than half of our non-wood waste. In 2013, we upped the ante and recycled 64 percent of our non-wood waste. Our goal of finding environmentally responsible outlets for remaining waste continues.
While we have accomplished a lot in our goal of providing stylish, affordable furniture that is sustainably produced, we're never satisfied with the status quo. In finding ways to do things better, we hold true to our commitment to make products you can feel good about using to beautify your home.
To keep track of how we're doing, check out our most recent
Sustainability Report
.
Next up: How we convert sawdust into energy, and the other really cool things we do with sawdust.