The Sauder Story: Upcycling right from the start
Knowing a company's history reveals something about what it sells. Which is why we're writing the first in a series of blog posts about us — not a new product or collection, but the company. What makes us tick. Where we came from. Where we're headed.
Our first "Sauder Story" post pays homage to our founder's commitment to upcycling. When it comes to
sustainability
, we like to think we've been smart about using our resources since the very first day our company was founded.
Way back in 1934, our founder, Erie Sauder, started a woodworking business in the barn behind his house in
Archbold, Ohio
.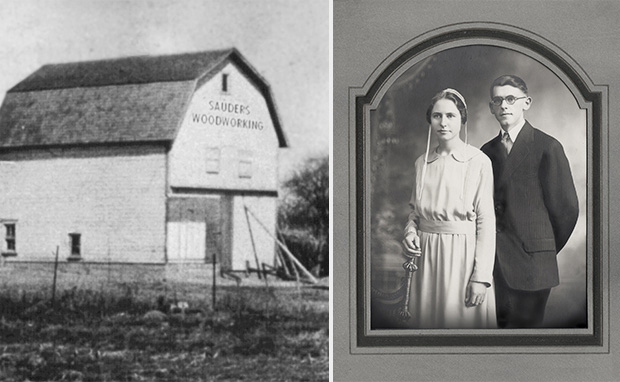 The barn where it all began (left), Erie and Leona Sauder (right)
Driven by his strong faith and commitment to the local community, Erie's early craftsmanship focused on building everything from chicken crates to cabinets for his farmer neighbors. Within a few years, his growing factory — at the same site Sauder remains today — produced church pews for local congregations.
A sustainability pioneer
Erie was a sustainability pioneer. As his business grew, so did the wood scraps. Not wanting to waste anything, he upcycled the leftover hardwoods into small occasional tables. Eco-friendly furniture was born. The affordable, quality tables caught the eye of a traveling salesman who placed an order for 25,000. Erie incorporated his business with the help of a friend and expanded the factory to fulfill the order.
Nearly two decades later, Erie became the father of ready-to-assemble (RTA) furniture when he patented a small "knock down" table that consumers could assemble themselves at home. No hardware, tools or glue were needed.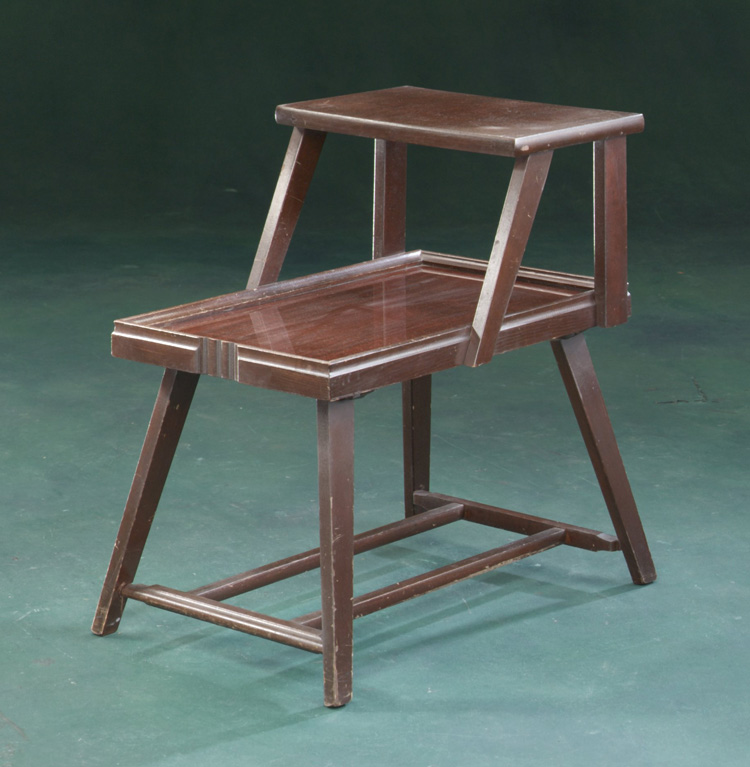 The first RTA table made by Sauder
Packed flat in compact boxes, the tables shipped easily across the country, saving transportation costs, retail space and money for customers.
80 years later
Fast forward to 2014. We're still family-run, right here in Archbold. After 80 years, we still embrace our roots and Erie's vision of servant leadership and his waste-not philosophy. In fact, we reuse or recycle 98 percent of the solid waste generated at our Archbold facility, and 40 percent of our plant's energy is generated from recycling.
From a backyard barn to a booming family of 2,400 employees, Sauder offers more than 30 affordable furniture
collections
to choose from, with an average of six new pieces going into production every week. All this thanks to a man ahead of his time who was passionate about our planet and the belief that everyone deserves great furniture at an affordable price.
Next up: How our waste-not philosophy is fueling our sustainability efforts today.