Top Sauder trends from Spring High Point Market 2014
It's my favorite time of year. No, I'm not talking about the holidays, or even my birthday. I'm talking about
High Point Market
.
High Point Market, or
#hpmkt
if you're following the show on social media, is the largest home furnishings trade show in the world. We're talking 180 buildings, more than 2,000 exhibitors and approximately 75,000 attendees. The best part — it happens twice a year.
The furniture design trends and inspiration are endless at a show this size. But when we break it down and take a look inside the Sauder showroom, there are a few strong trends driving the designs of today. Customization, multifunction and new finishes were everywhere at this year's #hpmkt.
Have it your way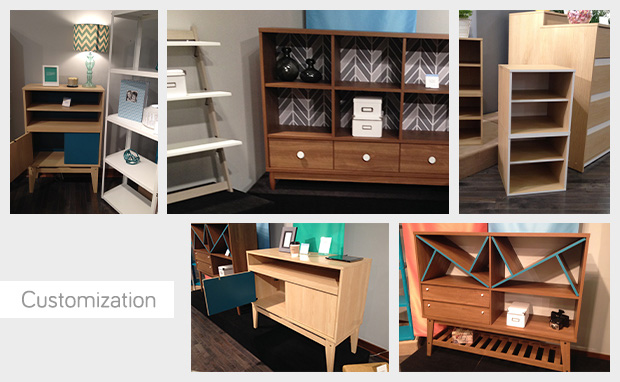 These prototypes products show off ability to customize your furniture and make it your own with color and patterns.
If you change your design style frequently or just have a hard time making a furniture purchase, these new prototype designs are right up your alley.
Many of the
Soft Modern
prototype pieces at the show had customizable features that let you decide how the finished product looks. Some had reversible backs (white to oak, or chevron to oak), and others showed alternate colored edging (peacock, white or oak), or doors that can be swapped from peacock blue to oak.
This trend is especially great for the DIY trend. These products let you have it your way and customize your furniture during assembly, so it's completely your own creation. How cool is that?
Multifunction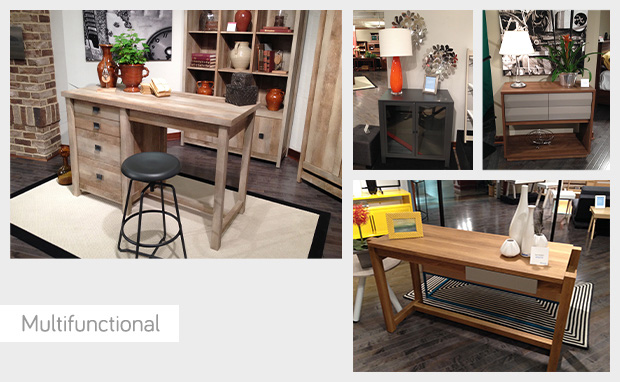 You don't need to be tight on space to appreciate a piece of furniture that works in multiple rooms of the home. It's a growing trend to have furniture that serves a purpose throughout the house, like a desk that can function as a sofa table, or a credenza turned entertainment stand.
Take the multipurpose Work Table from our new
Cannery Bridge Collection
. It's great for a desk, but it's also counter height, so it can be a kitchen island prep station, too.
Fresh new finishes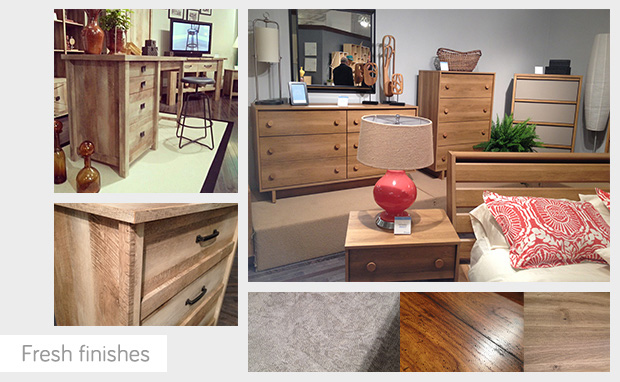 Pieces have two-tone, light, weathered and worn finishes.
Oak and lighter wood finishes took the spotlight in the Sauder #hpmkt showroom, like in the
Soft Modern Queen Platform Bed
. Two-tone light oak and white finishes, and worn fabric print finishes, were popular in some of the new prototype designs. Weathered and worn finishes also were popular in some of our old favorites, such as the
Barrister Lane Collection
and
Carson Forge Collection
.
These were just a few of the trends spotted in the Sauder showroom, but have a look for yourself. Check out our
Pinterest page
and let us know what your favorite pieces and prototypes are!