Home Tour: Leigh Fager's eclectic double-duty den
Name:
Leigh Fager,
Eclectic.Leigh
Location:
Massachusetts Military Base
Room in the home:
Den
Size of room:
9′ x 9′
How long you've lived here:
3 years
How you'd describe it:
Bohemian, comfy, modest
If your room were a food, it would be …:
Tomato soup with bacon grilled cheese
, because it's a classic that makes you feel warm inside with a little extra flavor!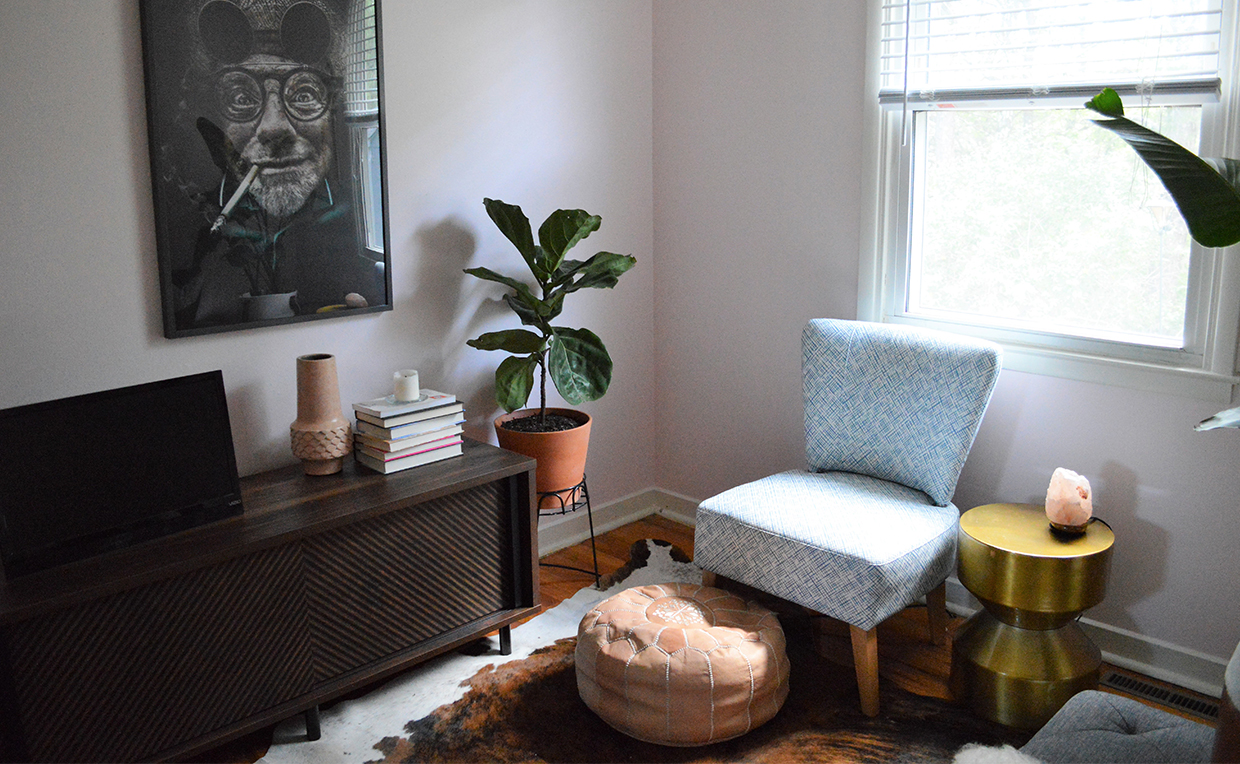 Leigh's
eclectic space proves that, when it comes to interior design, the only limitation is your imagination. While her space offered some challenges, she knew how to find furniture that fit and made a statement. Now it serves as both a relaxing retreat and an occasional guest room for family and friends.
Tour her den to find out how to make the most of your space and furniture.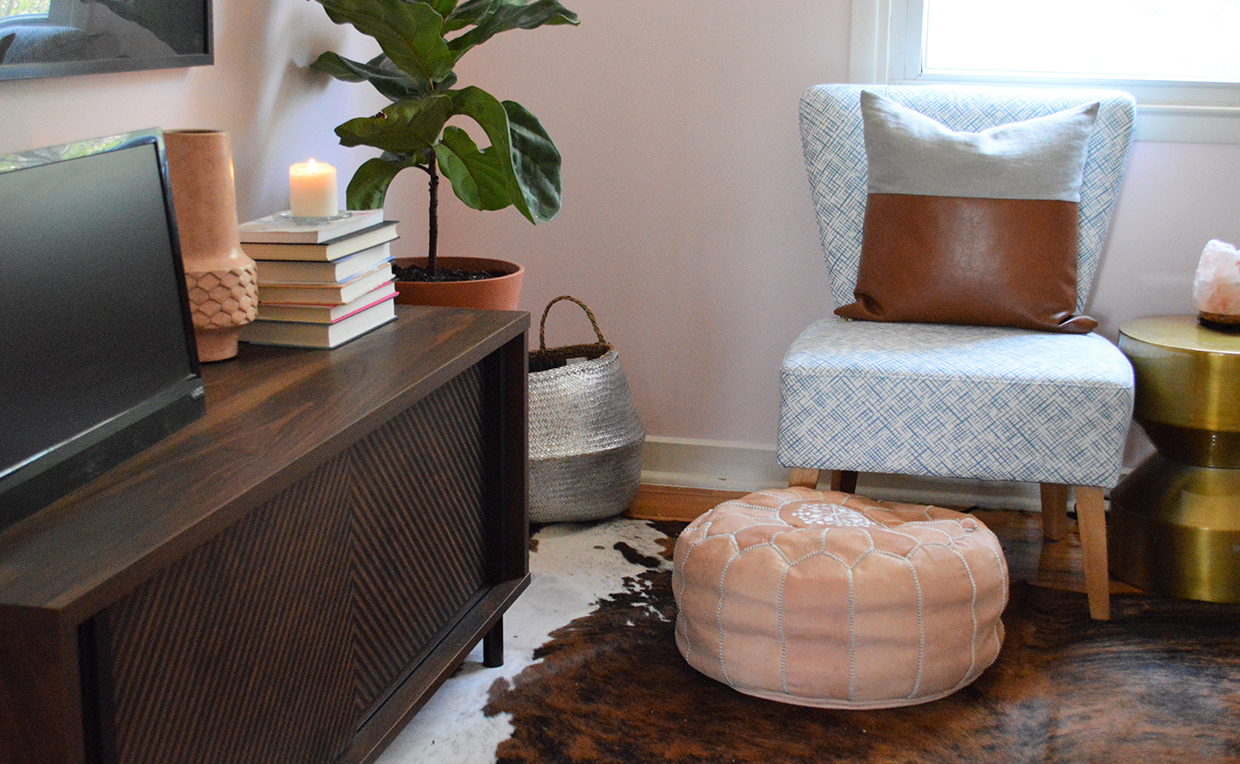 Give it a purpose
Leigh's comfortable crash pad begins with a fun, patterned
Marley Accent Chair
nestled comfortably against the back wall. It's a small space, but the light filtering in from the window opens the room and creates a great reading/lounging atmosphere. The mix of colors, patterns and materials are purposefully eclectic to make it casual and cozy.
"I love the
chair's
clean lines and midcentury modern feel. It complements the
Harvey Park Entertainment Credenza
perfectly!"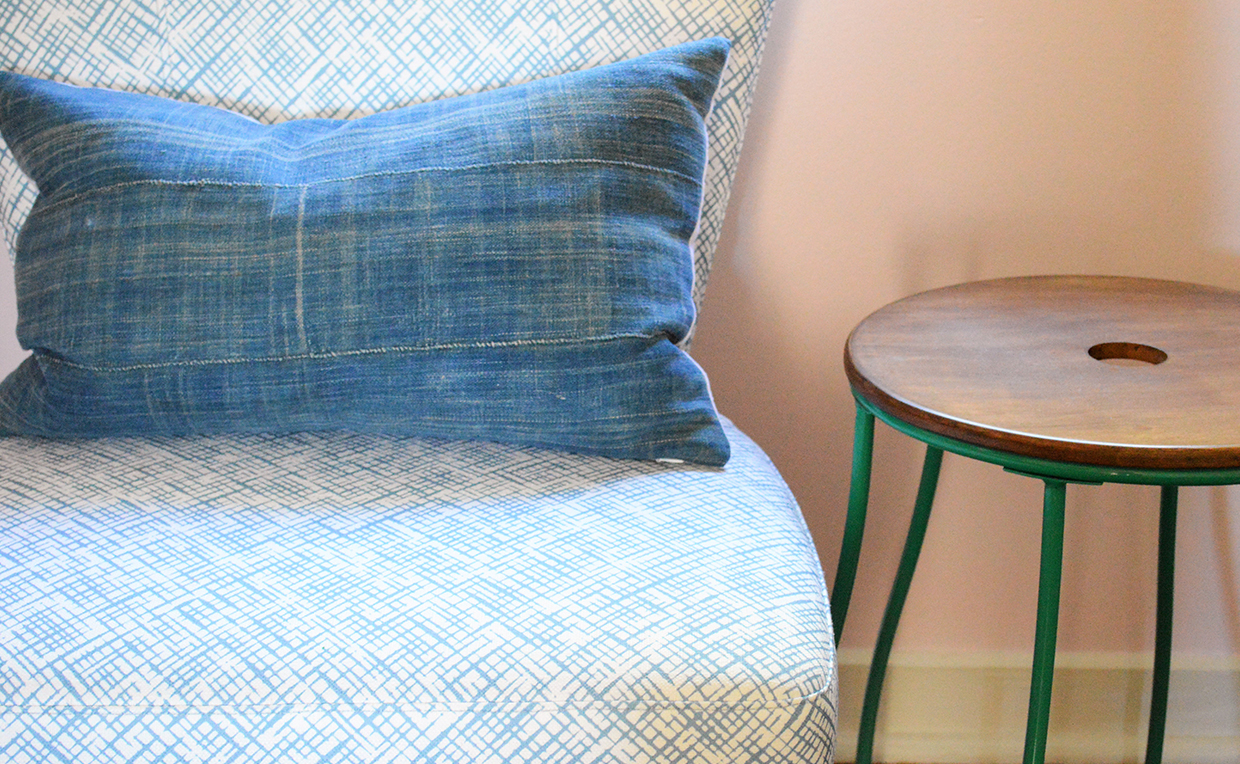 The accent chair is paired with a
multipurpose stool/side table
. Leigh particularly likes the versatility of her stool/side table.
"I love that it can be easily moved around and used as a seat in another room or a foot rest, a table for food or drinks and more. Plus, it's small enough to push into a corner when you need it out of the way!"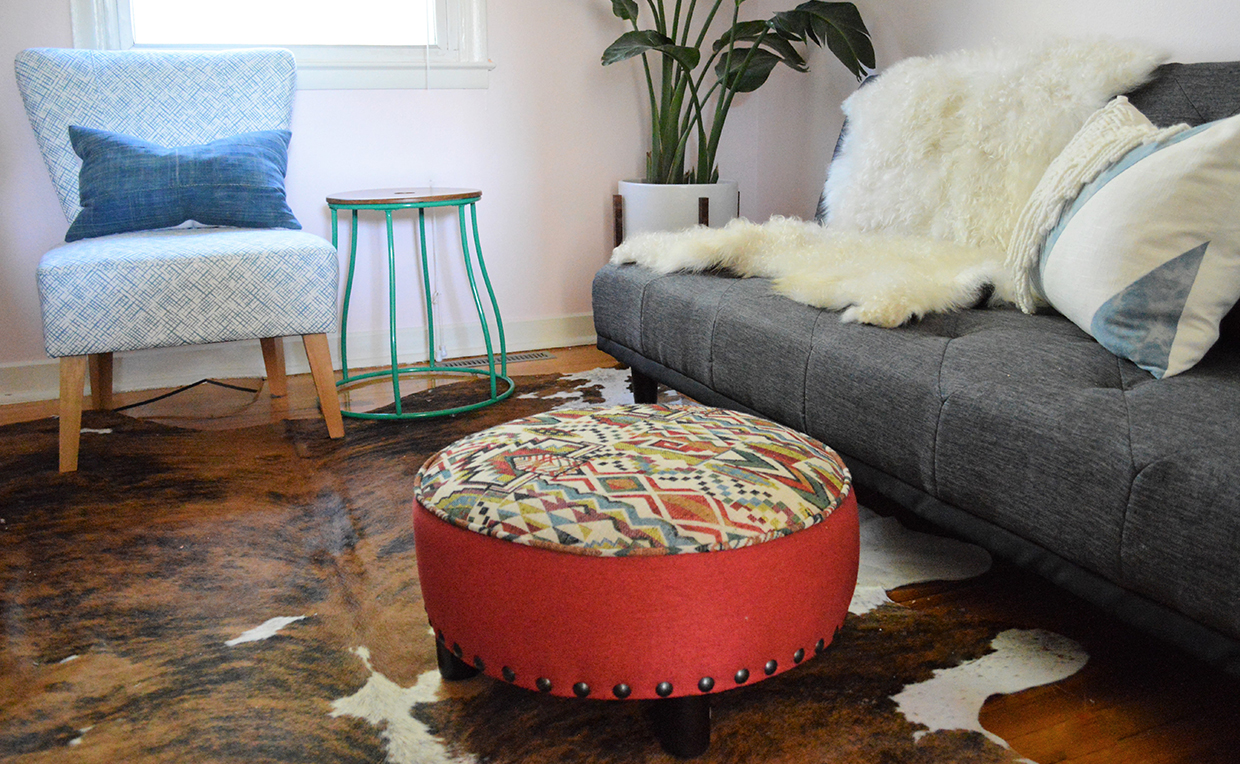 A den isn't a den without a place to lounge. While her chair is great for reading and soaking in the sunlight, Leigh added a sofa for a place to really stretch out. She says the sheepskin on the sofa and the soft, squishy pillows make you feel like you're wrapped in a hug while relaxing. It also makes for a great sleeping area for guests who visit often.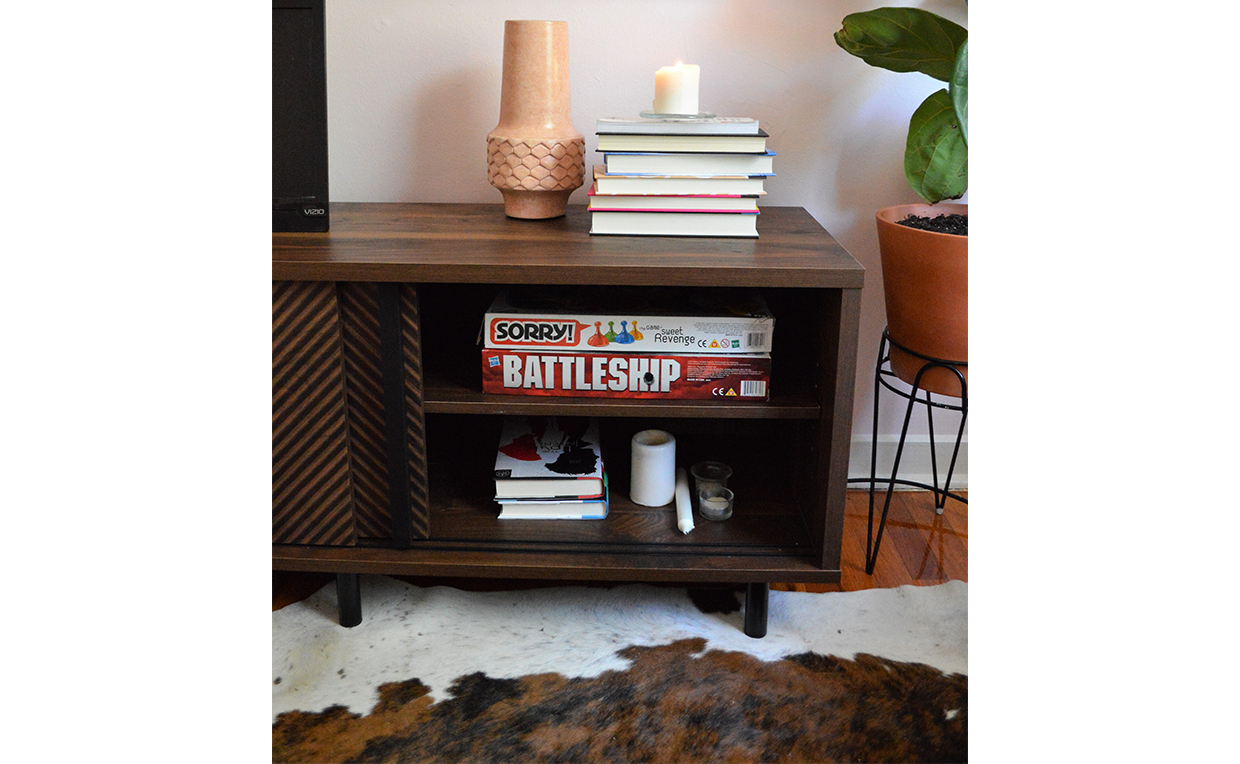 Just because a space is small, it doesn't mean it can't be used to
entertain
! Leigh's retro-chic
Entertainment Credenza
hides board games for get-togethers and books for quiet nights in.
"I was immediately drawn to the credenza because of the style of it and the lines on the front doors. But it's also a functional piece with the shelving inside of it and the multiple cutouts in the back for entertainment purposes."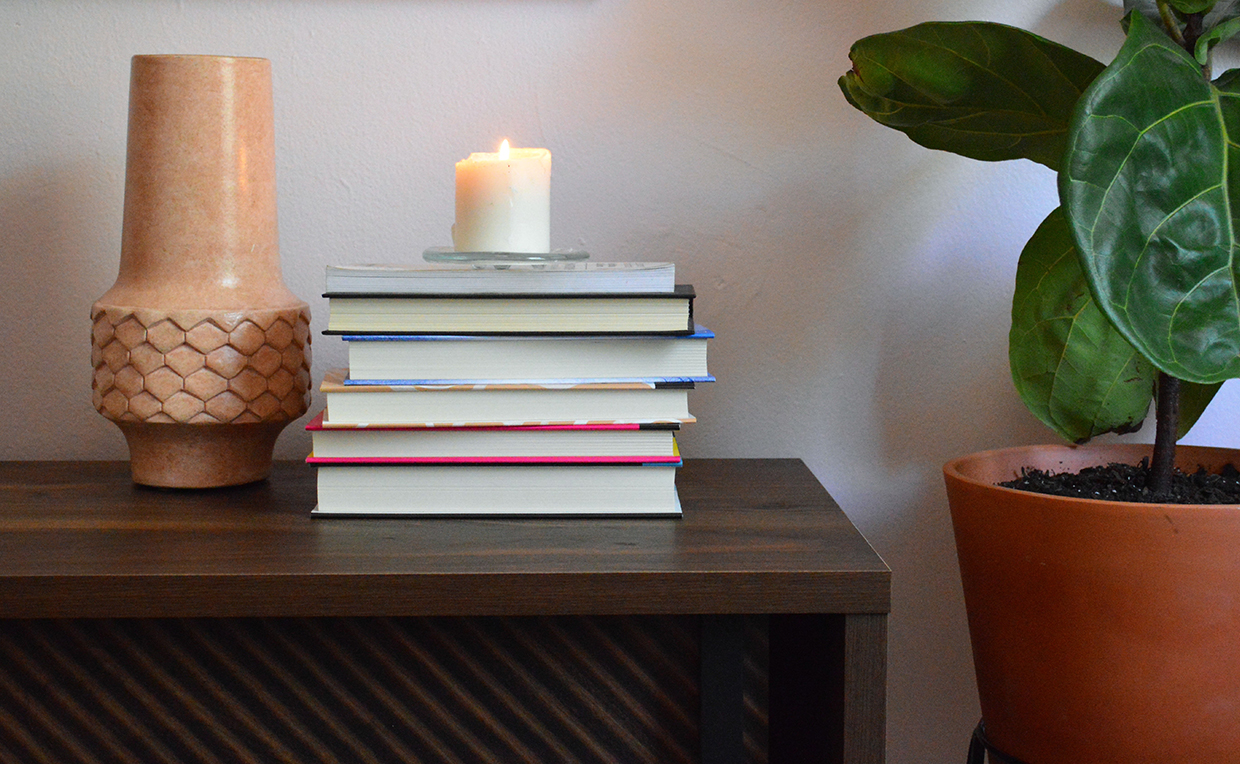 After the furniture was in place, Leigh began accessorizing her space with everything from blankets to books. Her credenza is covered in tastefully placed books and candles, making her den all the more inviting.
EXPERT TIP:
Hygge
is all about cozy must-haves. Don't forget the candles and books.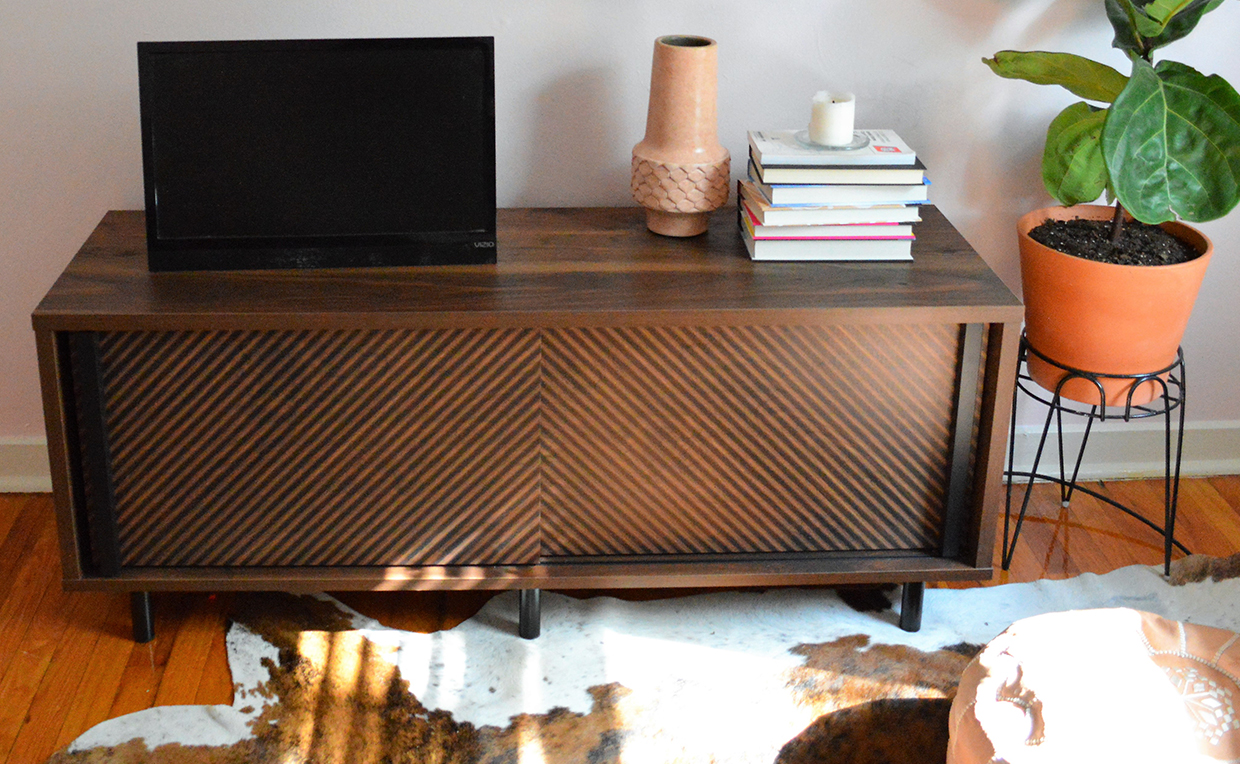 Leigh chose to frame her credenza by two large plants that add some much-needed greenery to the space without dominating it.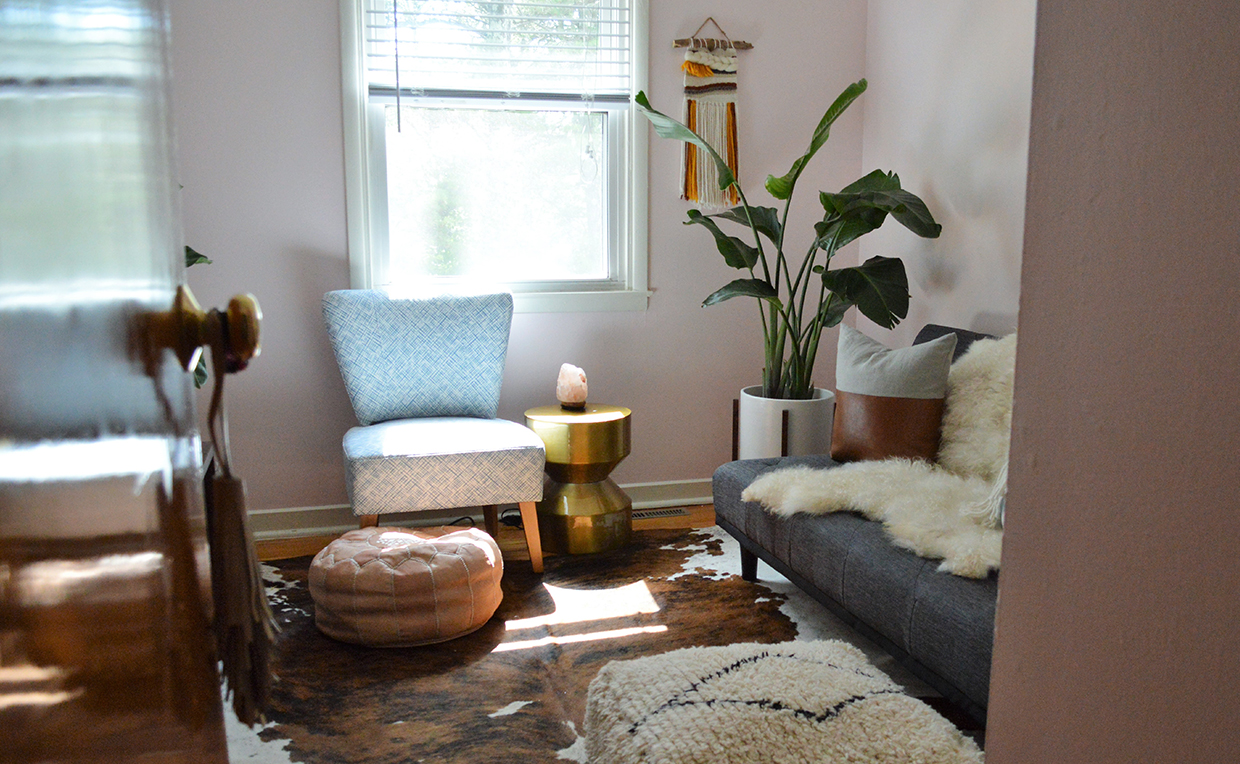 Leigh's den offers a lot of things — a creative use of a small space, a reminder to try eclectic combinations and a way to achieve coziness by embracing simplicity. Earth tones go with vibrant colors, and vibrant paintings offset white-washed walls to create a space that suits both her needs and the needs of her guests. Leigh proves that you shouldn't let a small space limit what's possible, and the smallest den can be an enviable bohemian crash pad.
Check out more designer home tours:
Photo credit:
Leigh Fager