The kitchen workspace: a multitasker's dream come true
Working from home no longer has to be specific to your traditional home office. WFH means flexibility, mobility and multi-use. Your house is filled with potential places to work.
Lana Katsaros
of
Making a House a Home
told us about her kitchen workspace.
Q
What's the benefit of a kitchen workspace?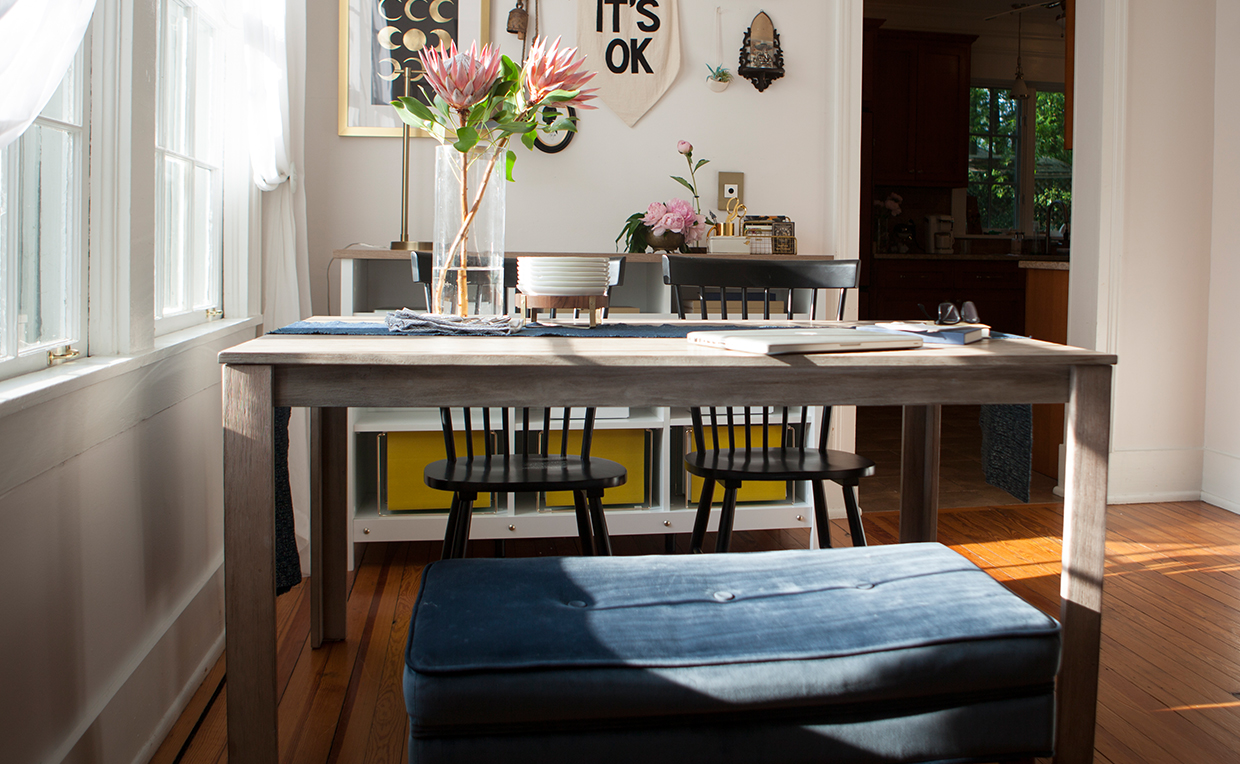 Multitasking! I cook a ton, so I love my kitchen workspace because of convenience. I can put something in the oven and get my expenses done at the same time. If I can access everything I need quickly, I'm happy and productive.
Q
What is must-have furniture for the kitchen workspace?
A large open surface is essential. I always seem to use the entire dining table for even the smallest project. As a full-time blogger, interior designer and shop owner, I need plenty of space, and the counter just doesn't cut it. I want a separate area for my laptop that's clean and clear of food.
Q
How large should your work surface be in a kitchen workspace?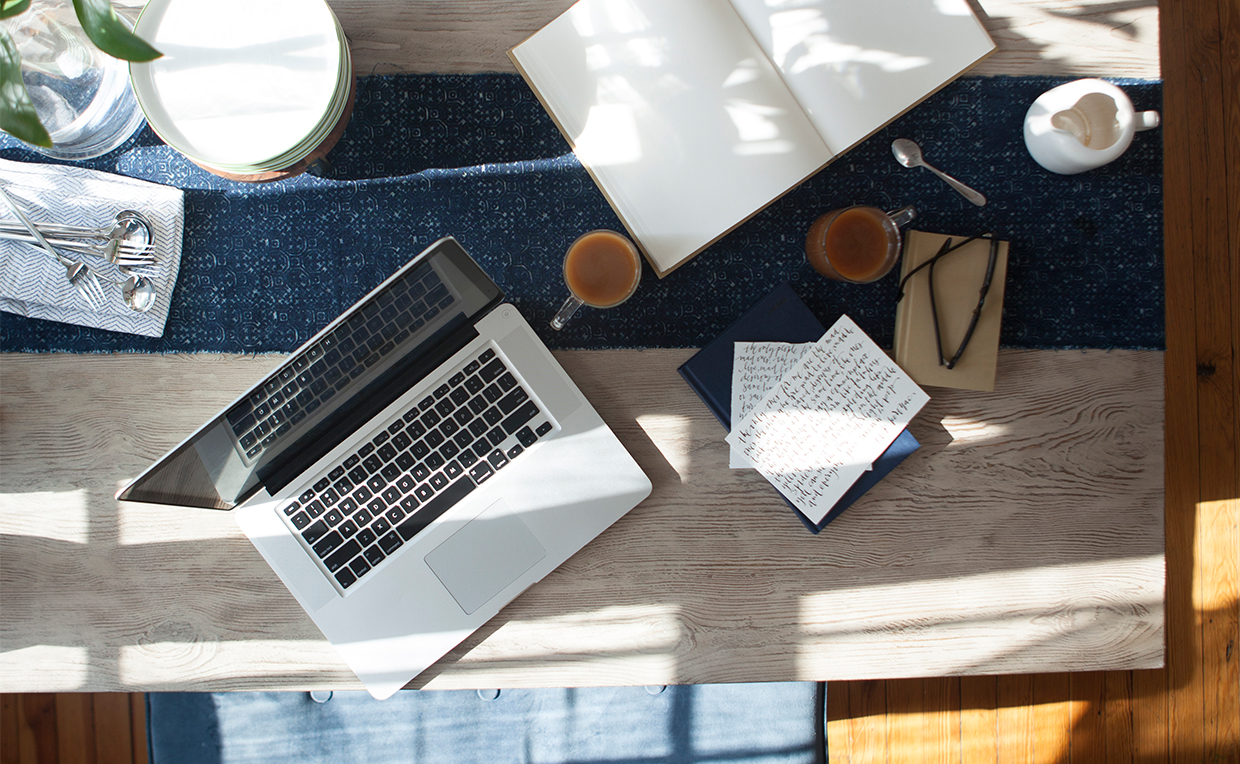 I always have a laptop open, lots of papers, materials, a camera and files. A dining table is about the right size for anything from sewing to creating a mood board and planning a color story for a project.
EXPERT PICK:
The New Grange Dining Table gives nearly 5 feet of work surface in the kitchen.
Q
What's your take on multipurpose furniture?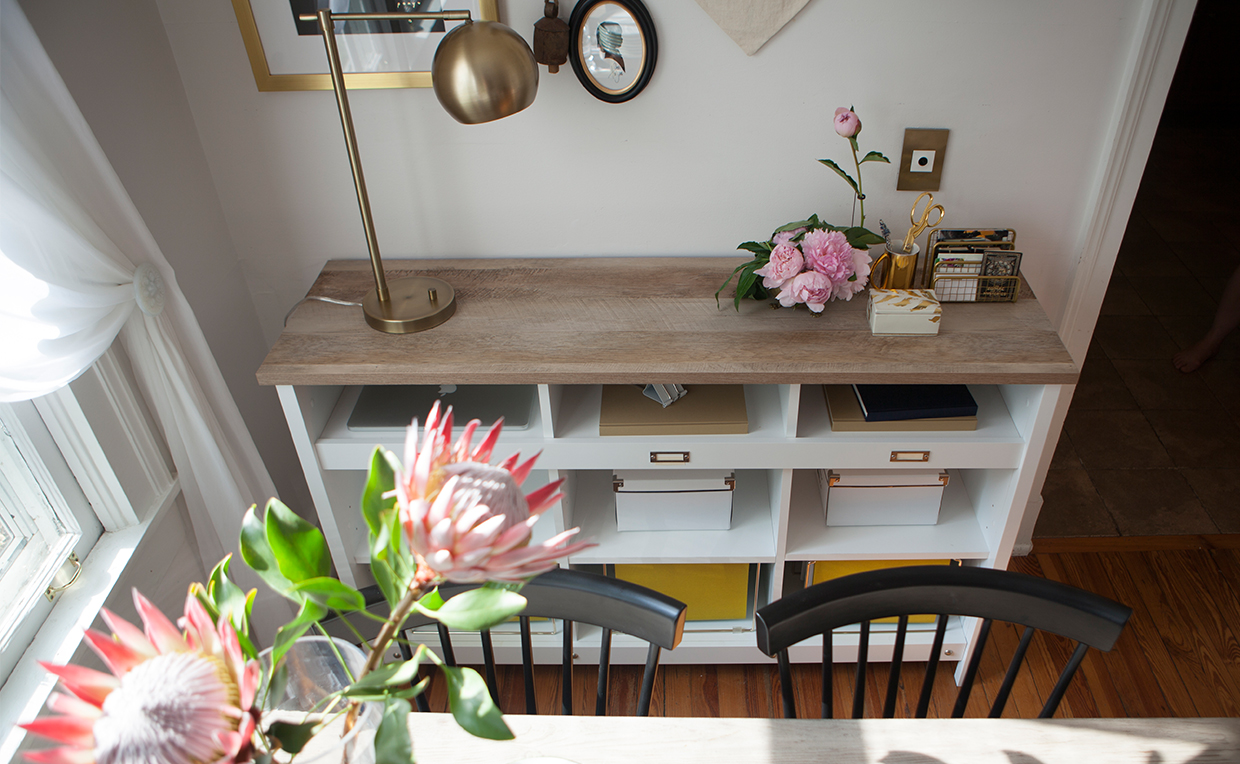 Living in a small cottage means furniture needs to multitask. The furniture in our dining room must serve a purpose for eating (obviously), but we use it for other things, too, like as a staging area for photo shoots for our blog.
EXPERT PICK:
The Adept Storage Credenza is great for storing office supplies when I'm working in the kitchen, but also functions as a buffet for dinner parties and entertaining. Plus, it's easy for my little helper to reach his art supplies!
BONUS PICK:
The
Adept Storage Credenza
is a perfect multipurpose sewing station in a multipurpose kitchen workspace.
Q
What is your ideal seating for the kitchen workspace?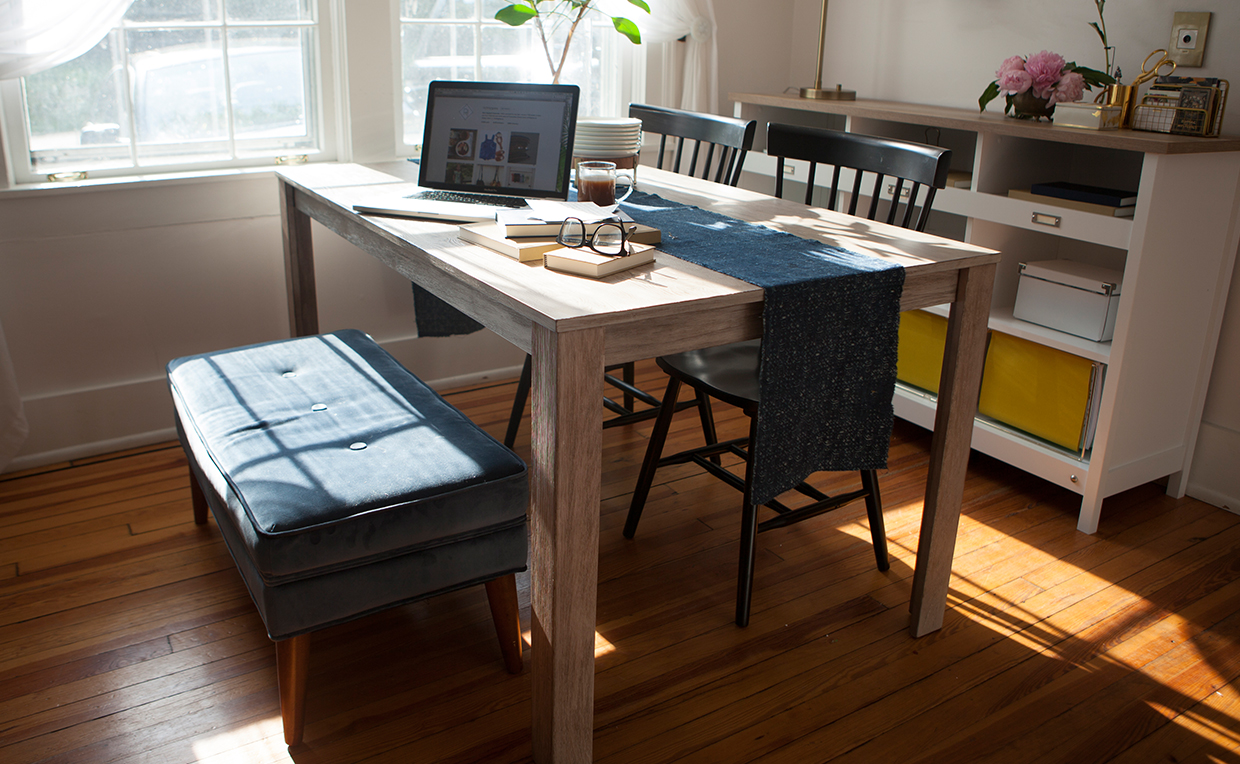 When I work at the dining table, I'm in a family space, so my son sometimes joins me. When I have my mini "helper," the chairs must be easy to clean. I look for chairs that I can wipe down because his little fingers always seem to leave peanut butter behind.
EXPERT PICK:
New Grange Spindle Back Chairs come in a set of two and have a higher back, so they're more supportive and better for the whole family.
Q
Kitchen office storage: open or closed?
I don't like things looking cluttered, so the more hidden, the better. I have everything from paint samples to mannequins I need to keep stashed away. Drawers,
huge ones
, have stolen my organizing heart, too.
Q
Can you really conceal technology and cords in the kitchen workspace, or is that
a pipe dream?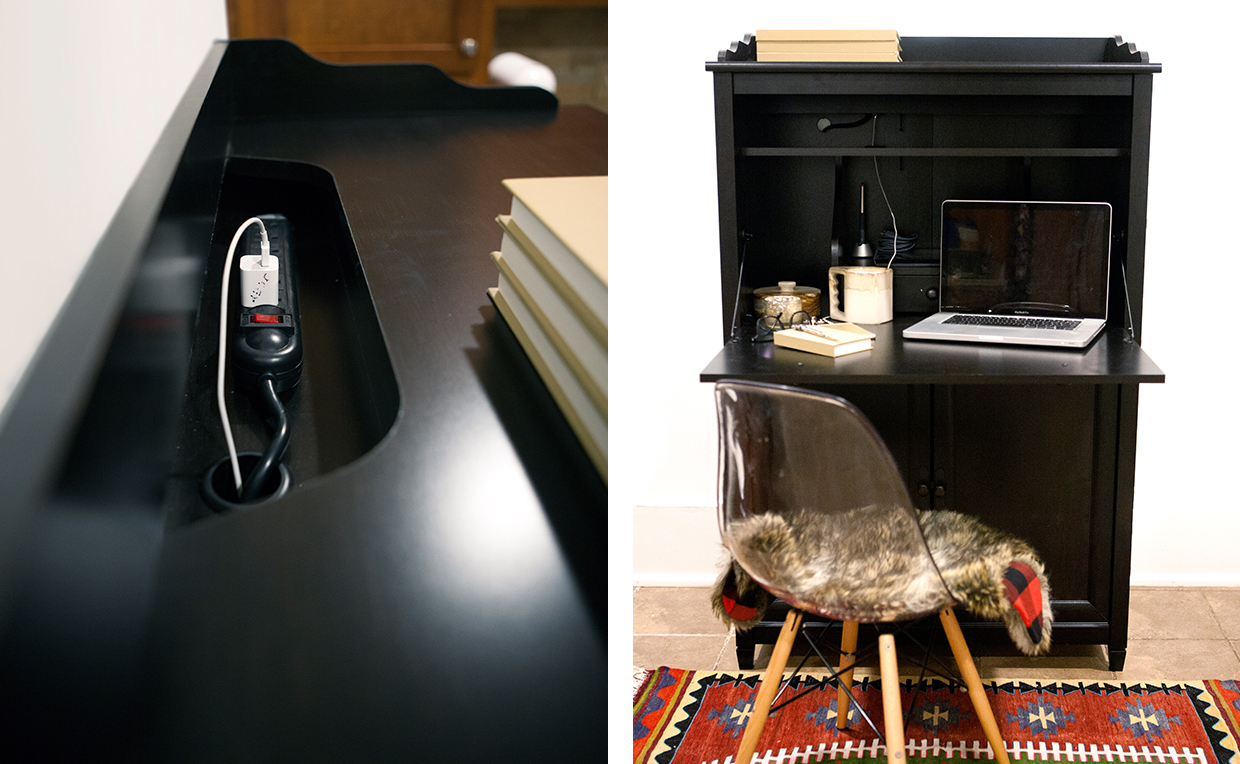 Hanging a power strip in a piece of furniture or mounting it under a tabletop has been a good way to have a bunch of power available but not have cords all over the place.
EXPERT PICK:
The Edge Water SmartCenter
®
Secretary has a charging station to organize cords.
Q
What makes you feel most at home in your work-from-home space?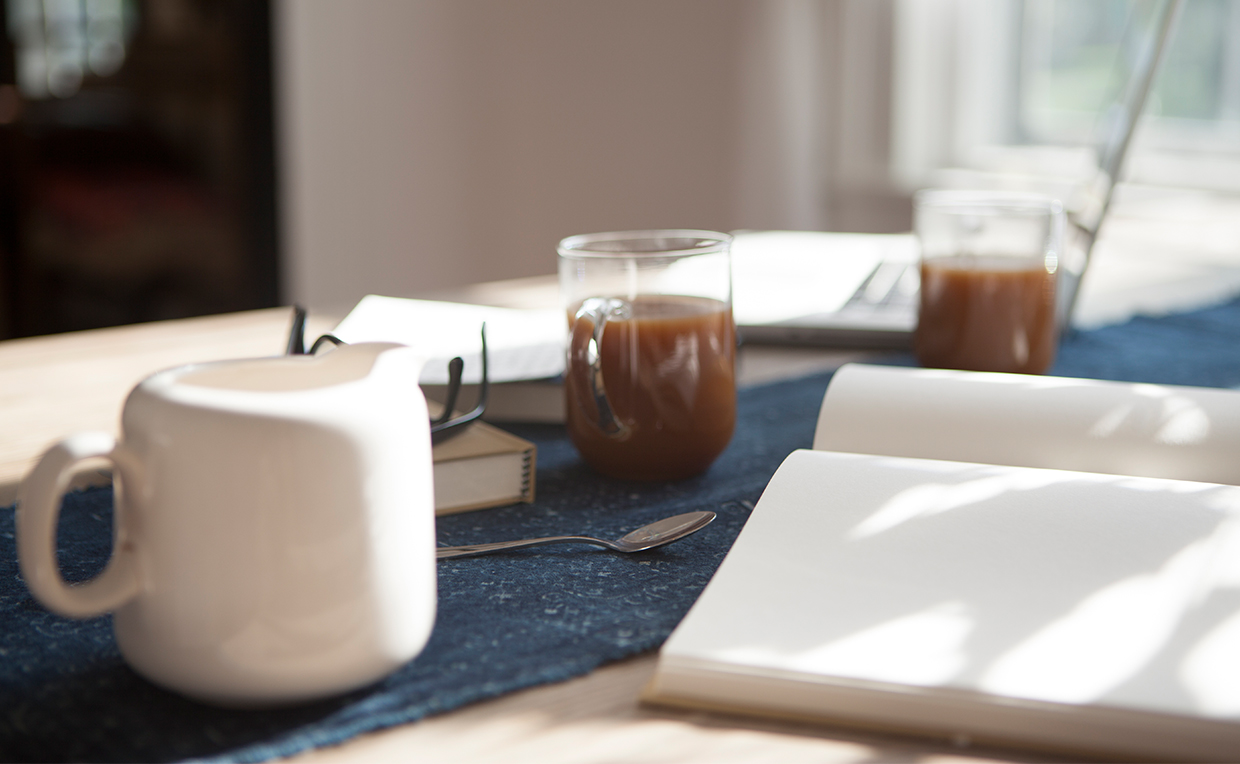 Comfortable furniture and a great atmosphere! I added a bench to the dining table where I sit to work, and it makes me feel like I have more room. I also open the blinds every morning, turn on some light music, light my favorite incense, and surround myself with my favorite co-worker, my snuggly toddler. With coffee in hand, I'm prepared for my workday at the kitchen table.