21 Small Space Entertaining Tips
"Help! My place isn't very spacious, but I'm hosting a party for a bunch of friends and family soon. How can I make this an awesome get-together without everyone feeling scrunched?"
We hear some rendition of this question all the time. With the holidays coming up, we wanted to find the answer once and for all! But because all spaces aren't created equal, there's no single solution that works for everyone. That's why we looked to some of our entertaining experts who inspired this list of 21 ways to
entertain
in a
small space
. And these tips for
entertaining in a small home
are so dang good, they'll make any size space feel homey!
1.
Make space
for your guests' items. Clear out your front hall closet for their coats, clear off your mantle or shelves on a bookcase and use it as a beverage center — you get the idea! (
Beth Hunter
of
Home Stories A to Z
)
2. Buy
small furniture
that's multipurpose. You'll have more options with two small tables instead of one big one. (
Dagmar Bleasdale
of
Dagmar's Home
)
3. Create a
signature cocktail
so you don't need to provide a full bar. It's cheaper and will take up less space! Plus, you'll impress your friends by showing off your mixology skills. (
Sharon Garofalow
of
Cupcakes and Cutlery
)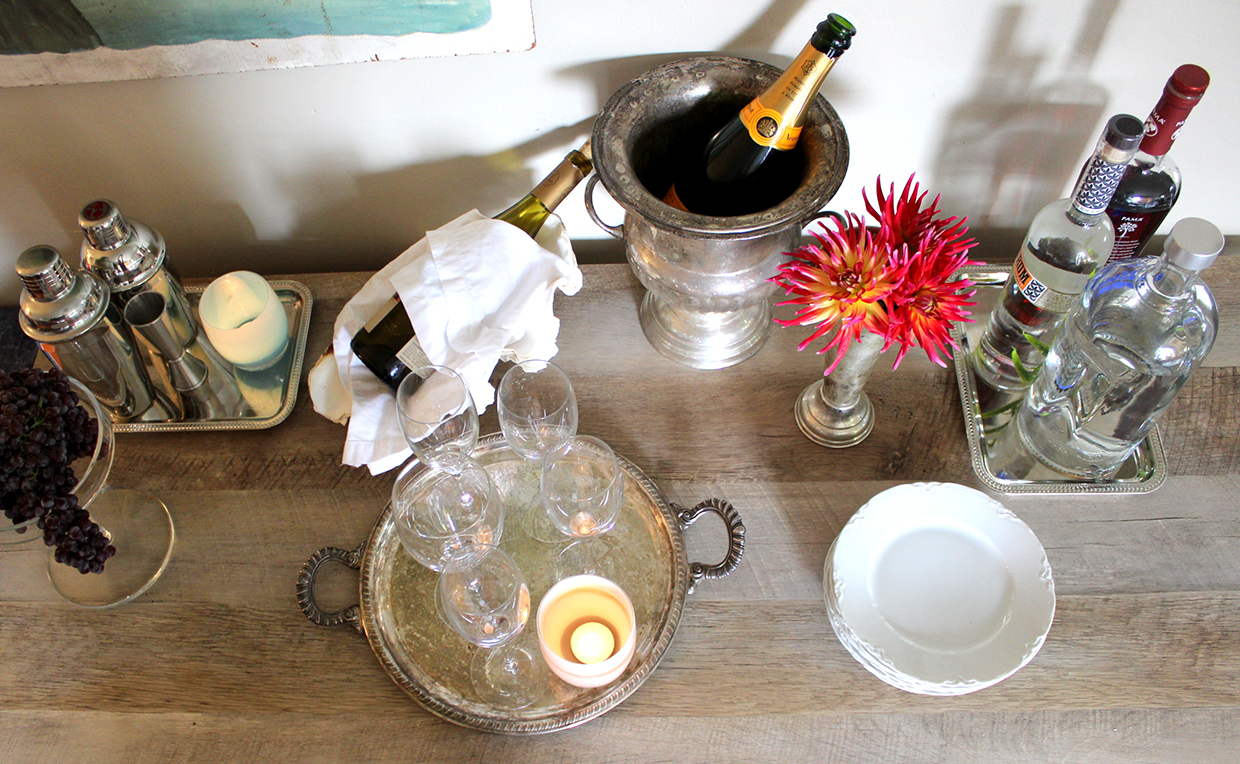 4. Create individual
food and beverage stations
to help spread people throughout the room or your home. (
Jessica Flannigan
of
Live the Fancy Life
)
5.
Mini or bite-sized foods
are always a hit. (
Danielle Cheever
of
Envision Pretty
)
6. Put together a
playlist
with a nice assortment of musical genres. (Almost every blogger we talked to mentioned this idea!)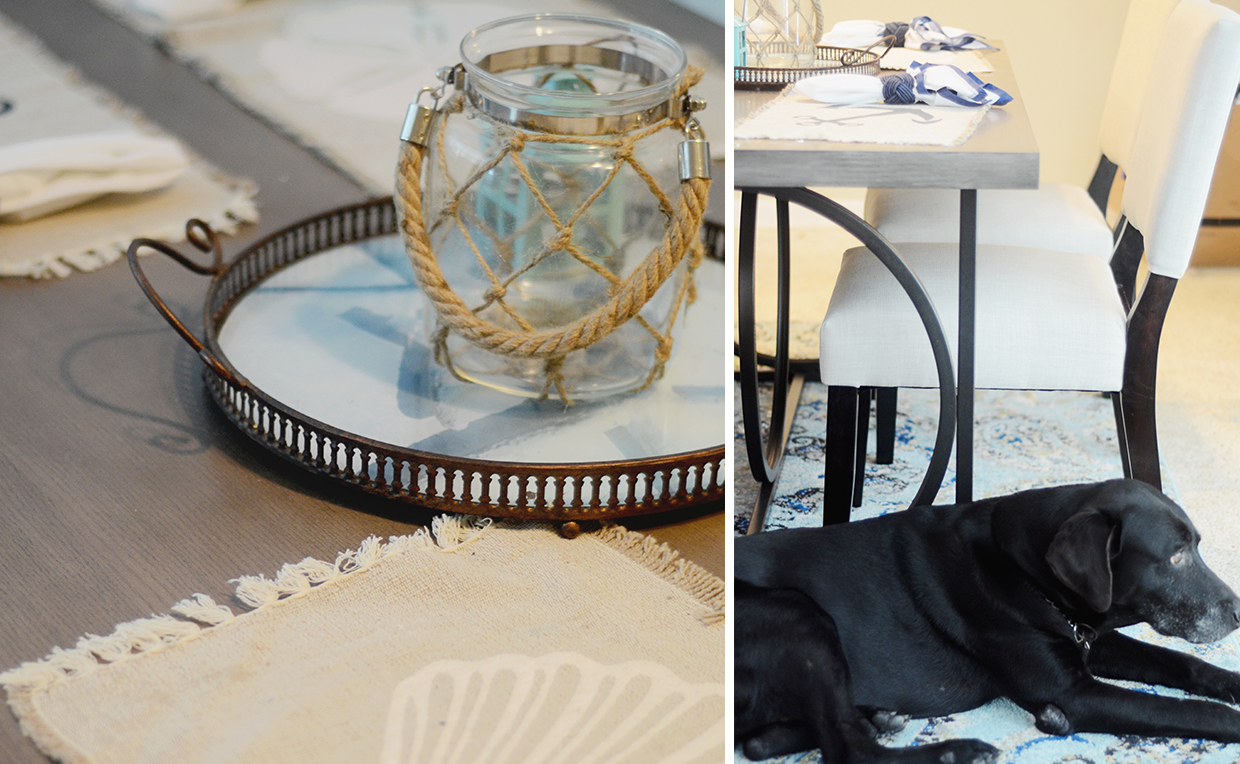 7. Make the space feel open by having a
simple tablescape
. This means low-key dishware, modest tabletop decorations, and probably only one fork (who
really
knows what to do with all that extra silverware, anyway?!). (
Rachel Bindl
of
A Detailed Palette
)
8. Prepare a large pitcher of fresh
sweet tea
! (Great tip from Southern gal
Jennifer West
of
Pink When
)
9.
Give your guests something to do
when they arrive. Decorating an ornament, playing a game or garnishing a drink are a few ideas. (
Aleah and Nick Valley
of
Valley & Co Lifestyle
)
10.
Empty your dishwasher
ahead of time so you have a space to stash the dishes when you clean up. (
Stephanie Gerber
of
Hello Natural
)
11. Have a
space for the kids
to play that's still within range of the parents. Offer little activities to keep them busy, too. (
Ashley Thurman
of
Cherished Bliss
)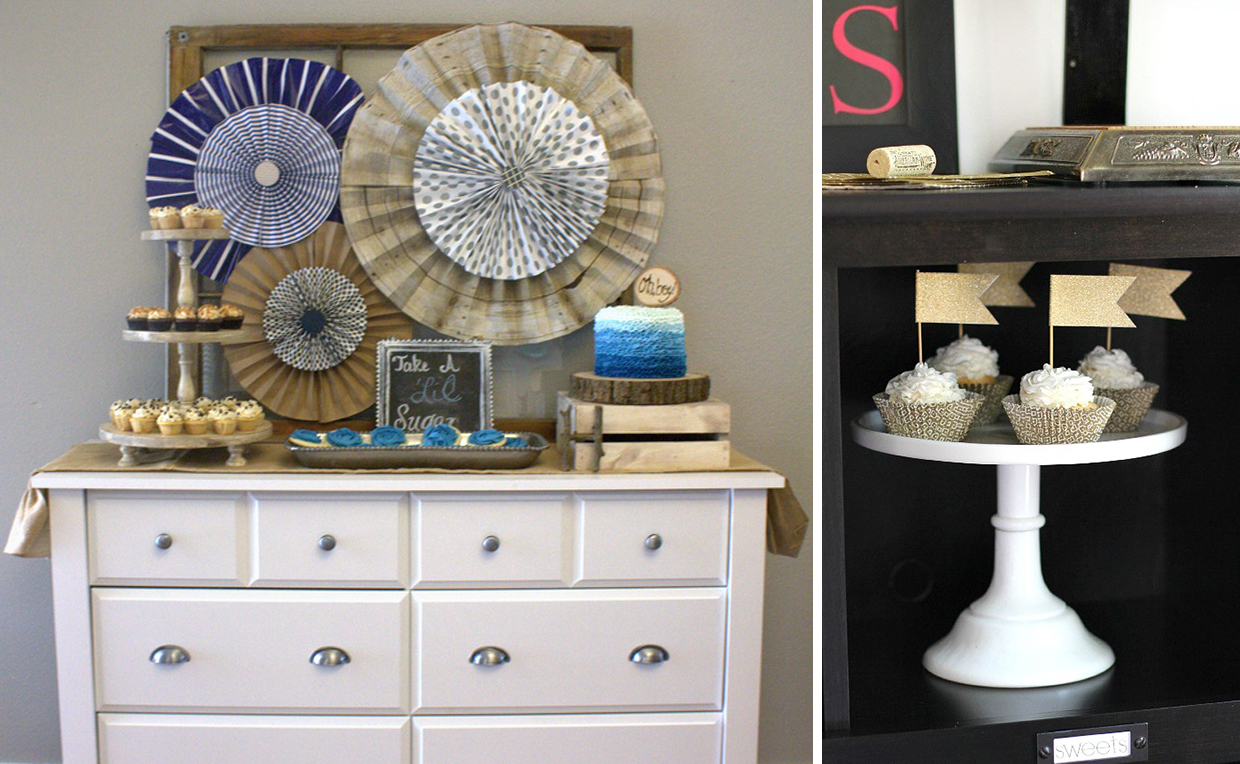 12. Serve your appetizers or desserts on a
cake stand
, which is not only pretty but give you more space by going vertical. Hang a pretty fabric backdrop behind it for added style. (
Jessica Flannigan
of
Live the Fancy Life
)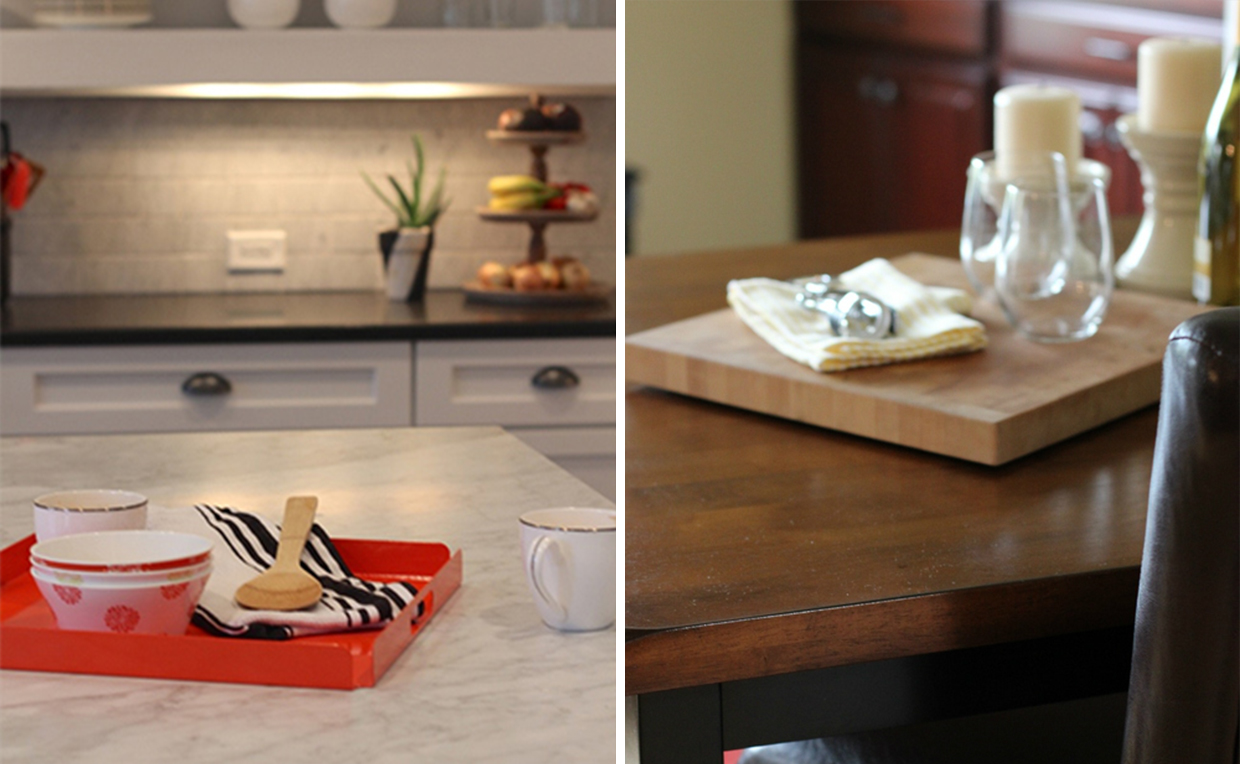 13. Use
wood cutting boards and serving trays.
They're versatile, mobile and beautiful! A wood cutting board is great for cheeses while a large
serving tray
can hold cocktail ingredients and be moved around the space as needed! (
Faith Towers
of
Curbly
)
14.
Simple is better
, especially when it comes to the menu and recipes. (
Megan Zietz
of
The Frugalista Diaries
)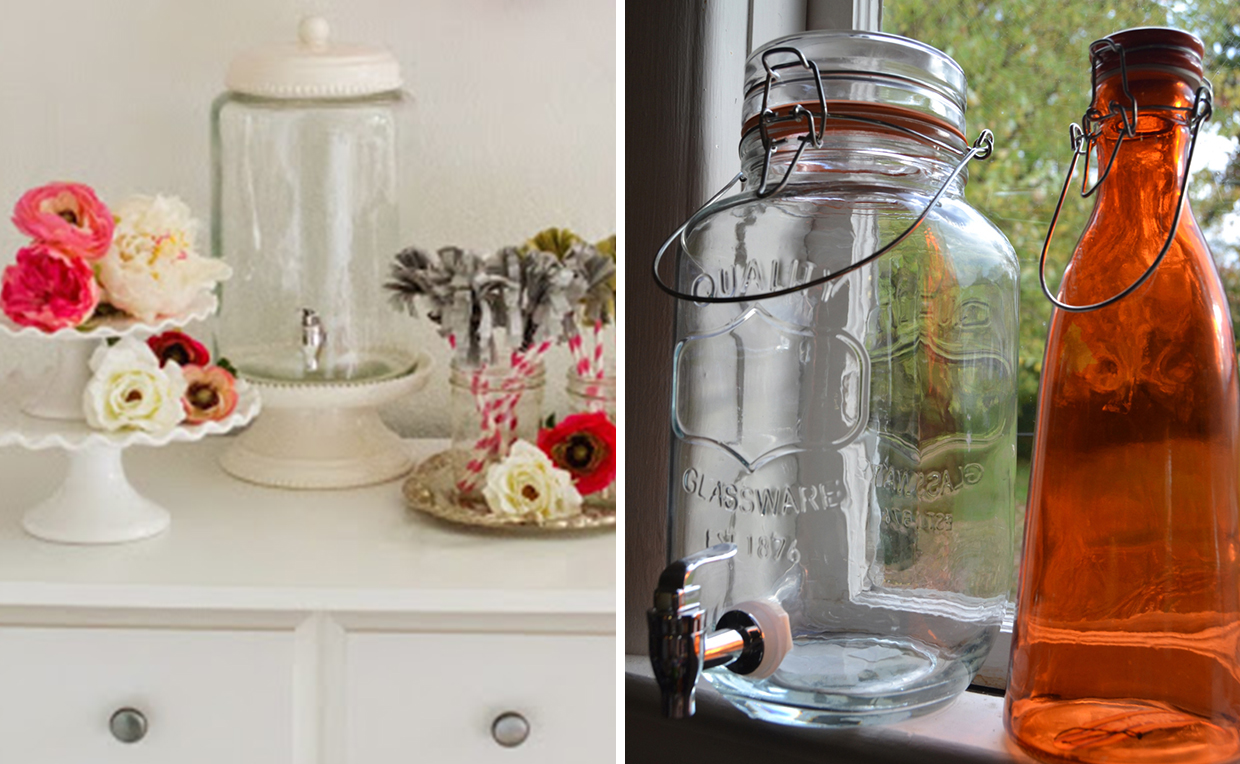 15. Offer a few drink options in large glass
spouted containers
to cut down on canned or bottled options. The easier the better! (
Lana Katsaros
of
Making a House a Home
)
16. Think
multipurpose
with your furniture. A
bar cart
can also hold appetizers, plates and silverware. A
dresser
can be transformed into a buffet. An
end table
can be a small snack station. (
Monica Benavidez
of
Monica Wants It
)
17.
Have a Dustbuster at the ready
. If there are kids around, especially in small spaces, there's inevitably going to be a little mess. A Dustbuster means not having to drag out the upright vacuum and make a scene. (
Jessica Bailey
of
Pretty Providence
)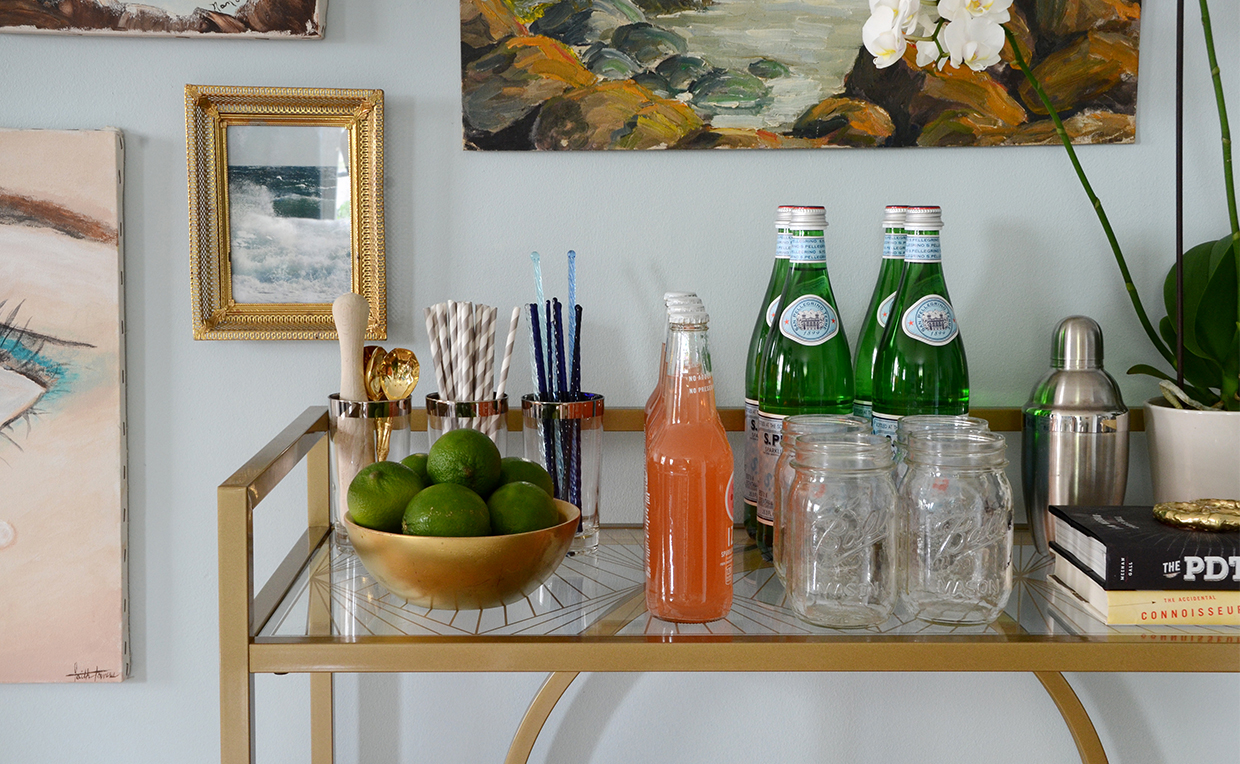 18. Want to really impress your guests?
Consider the details when making beverages
. Tossing raspberries into pink lemonade or offering ice cubes that are fun shapes up the ante. (
Rachel Bindl
of
A Detailed Palette
)
19. Don't forget the
ice
! If you're planning to make your own ice cubes rather than buying bagged ice, you'll need to think ahead. (
Debbie Westbrooks
of
Refresh Restyle
)
20. Be realistic about
how many people you can accommodate
. There's no style tip that can help you overcome too many friends in a teeny living room! If you're set on inviting lots of people, consider an open house style so people can come and go as they please. (
Rachel Bindl
of
A Detailed Palette
)
And our favorite, most concise tip of them all?
21.
Wine.
(We couldn't agree more,
Beth Hunter
!)
We want to hear your ideas, too. Share your favorite small space entertaining tips in the comments!
Need more
tips on entertaining at home
? Check out our lookbook, which is packed with awesome room makeovers to inspire you, like
this glam dining room redo
and
this cozy living room refresh
(complete with the cutest little pup ever!).
Top image from
Carla Wiking
of
Small + Friendly
.