3 essential tips for choosing an entertainment stand
Let's face it: The TV is a staple in most living rooms. And, in many cases, its partner in crime — the entertainment stand — remains a must-have.
Whether you need to hide electronics galore or your TV is mounted and you've gone completely wireless, we've got everything you need to know when picking the best entertainment stand to accompany that big screen. But don't take our word for it. With the help of the experts —
Liz Fourez
,
Shannyn Allan
and Colleen Ludovice — we've compiled three essential questions you should ask before picking the best entertainment stand.
1.
Are you looking for furniture first or a tech-centered piece?
If you're looking for furniture first …
Pick a piece that looks more like a buffet or dresser so it blends into your space.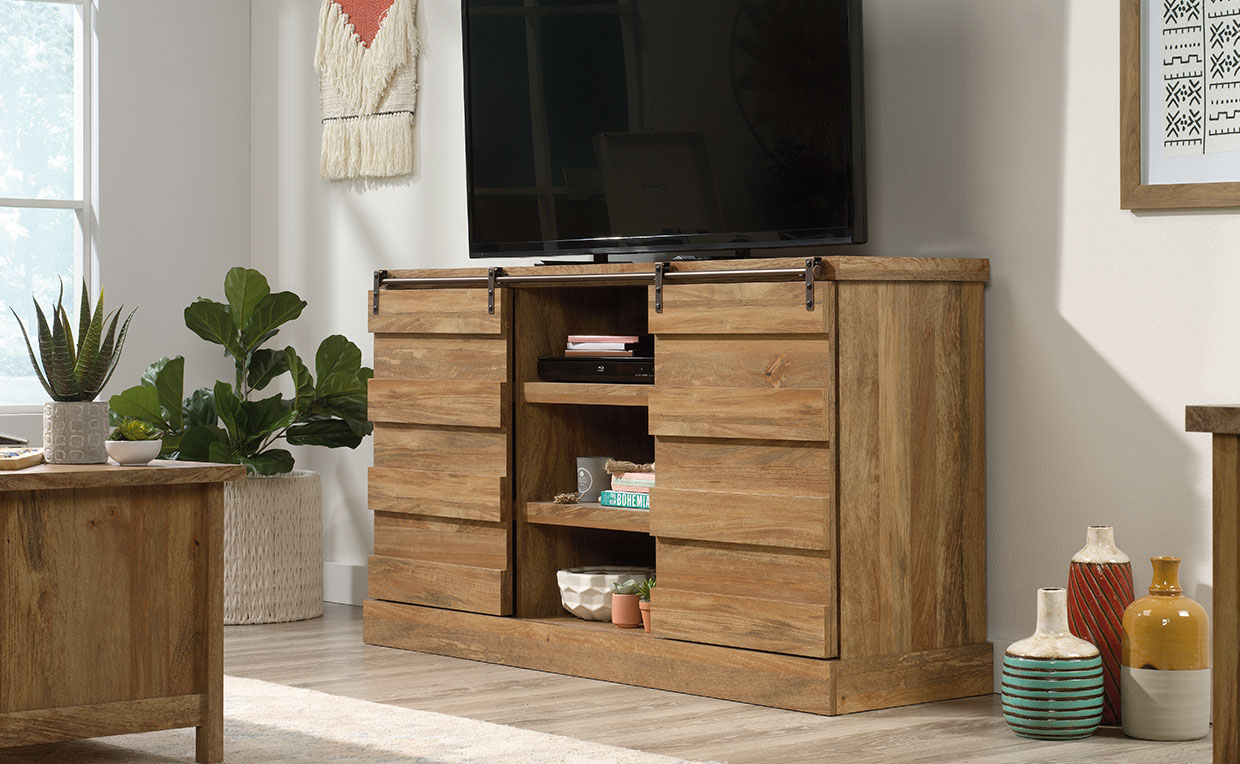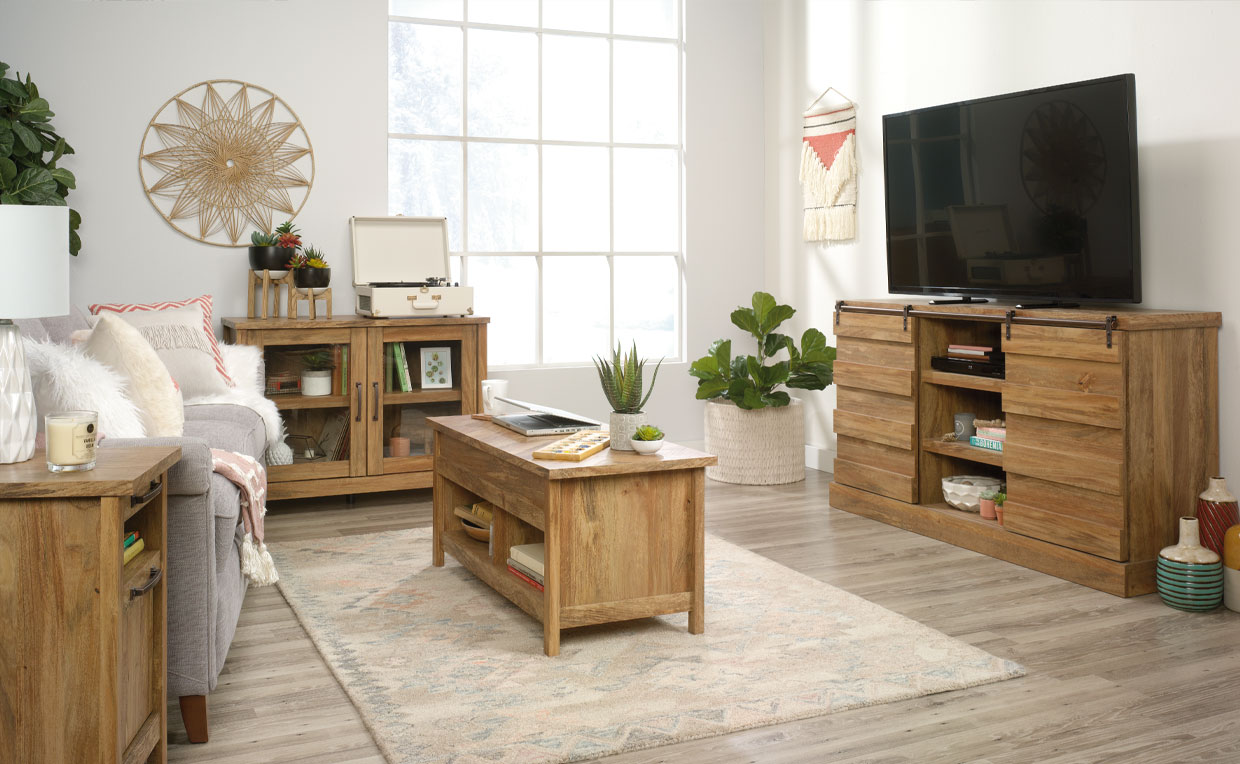 If technology is your priority …
Look for an entertainment stand with open shelves for the BluRay player, xBox and Apple TV. Drawers hide remotes and game controllers.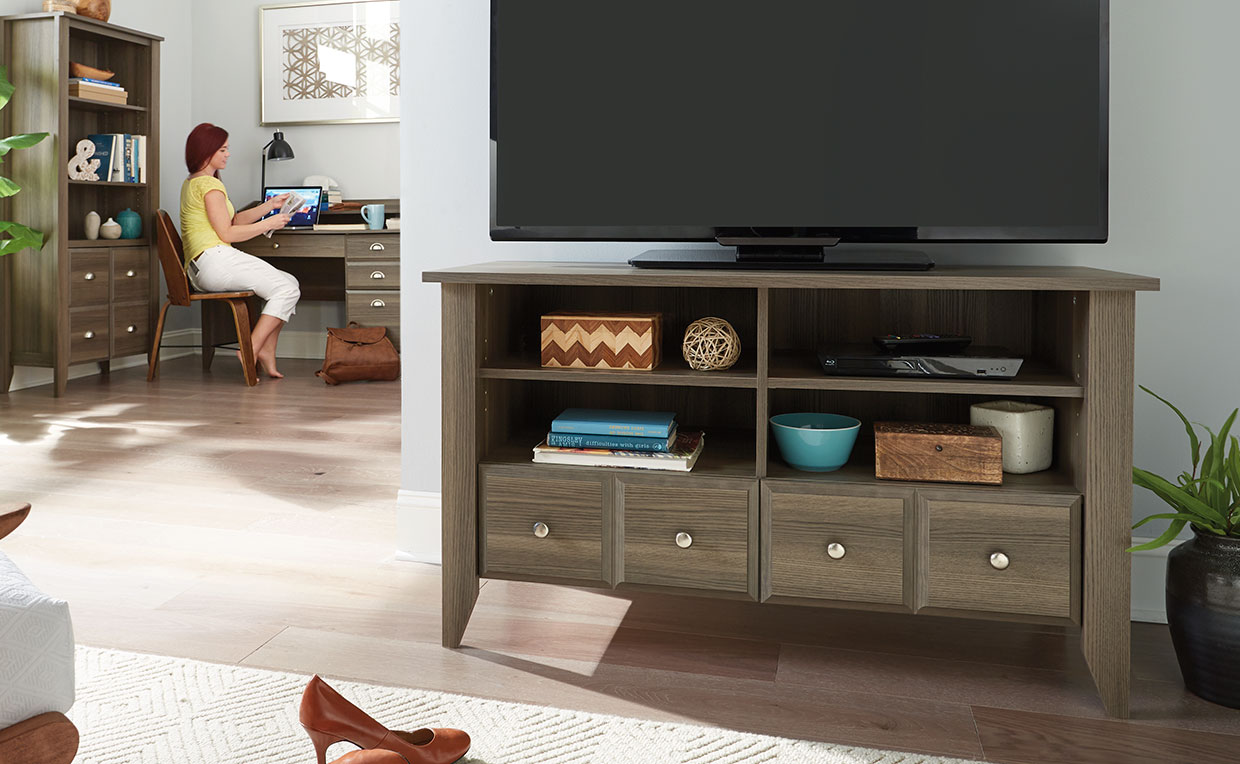 The clean lines, open storage and drawers of the
S
hoal Creek TV Stand
keep tech sorted and stylish. It holds up to a 42-inch TV.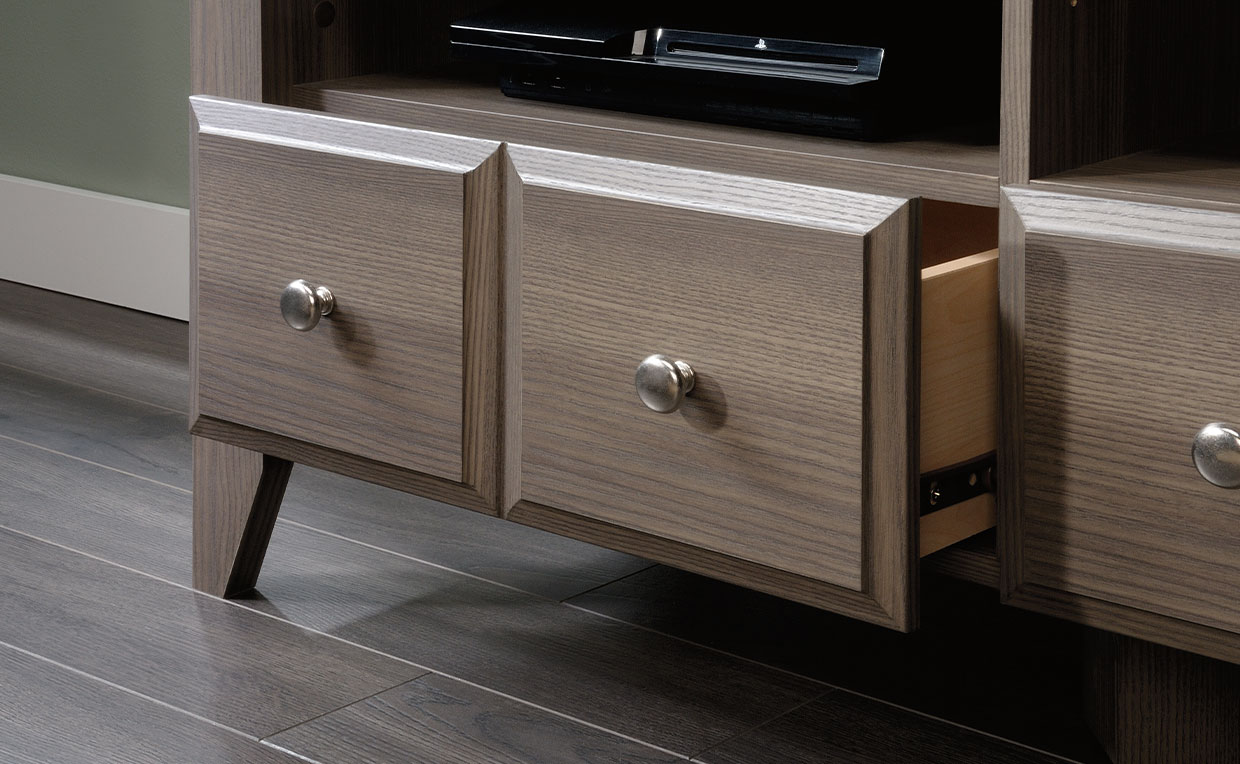 FAN FAVE:
The
Sauder Select Entertainment Credenza
is a techie's dream. The curved front of the credenza pairs perfectly with curved televisions. It holds up to a 65-inch television.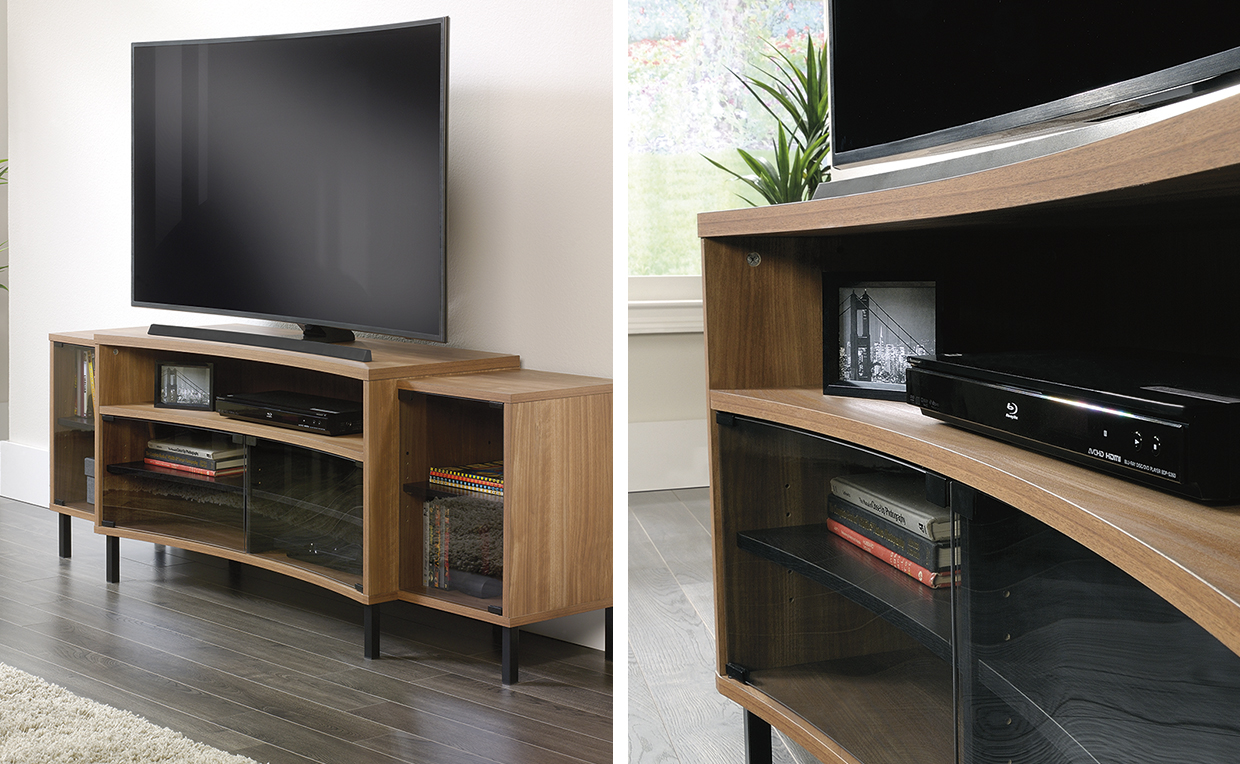 2. Is your TV mounted or placed on your entertainment stand?

If your TV is mounted …
You might just need something for storage. Consider a small credenza or
accent storage cabinet
that's more decorative, or a minimalist
TV Stand
with simple open shelves.
EXPERT PICK:
Colleen of Inspired to Share uses the
Eden Rue Credenza
solely for storage underneath her mounted TV. By placing useful and decorative objects on top, the credenza blends seamlessly into the room without sacrificing style.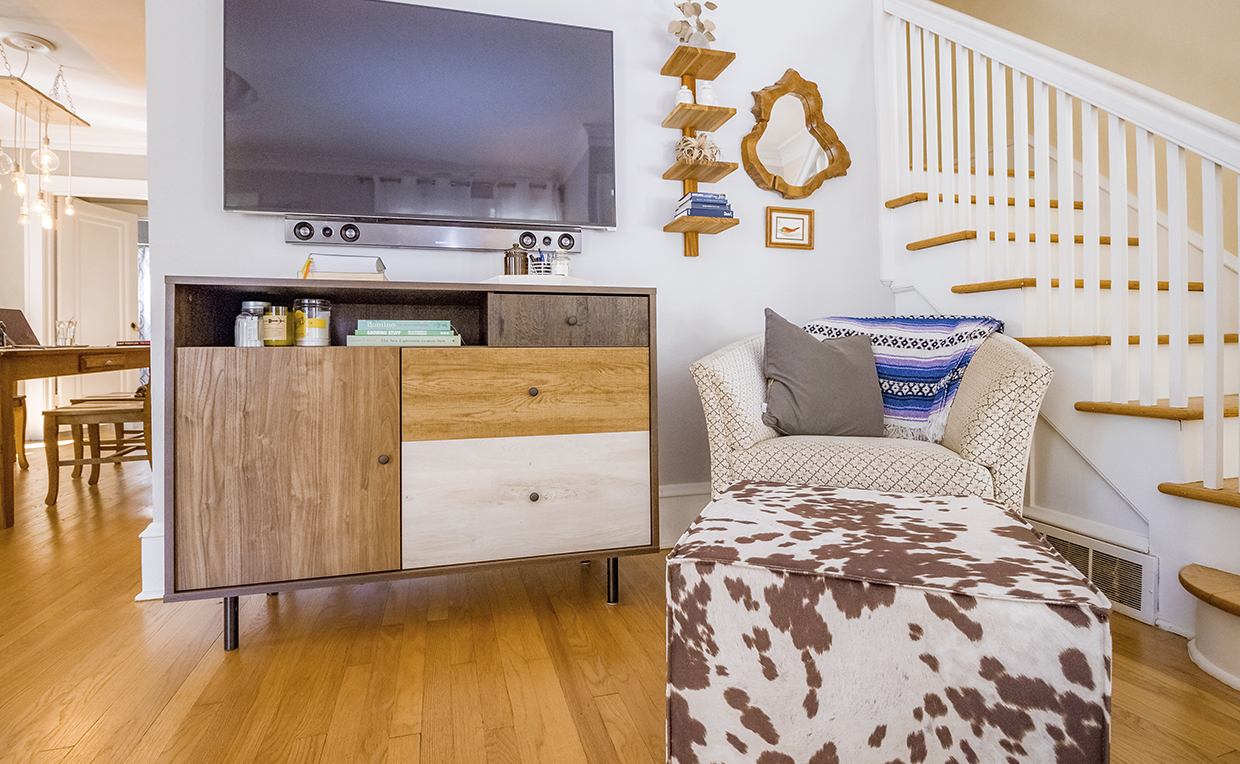 Photo courtesy: Colleen Ludovice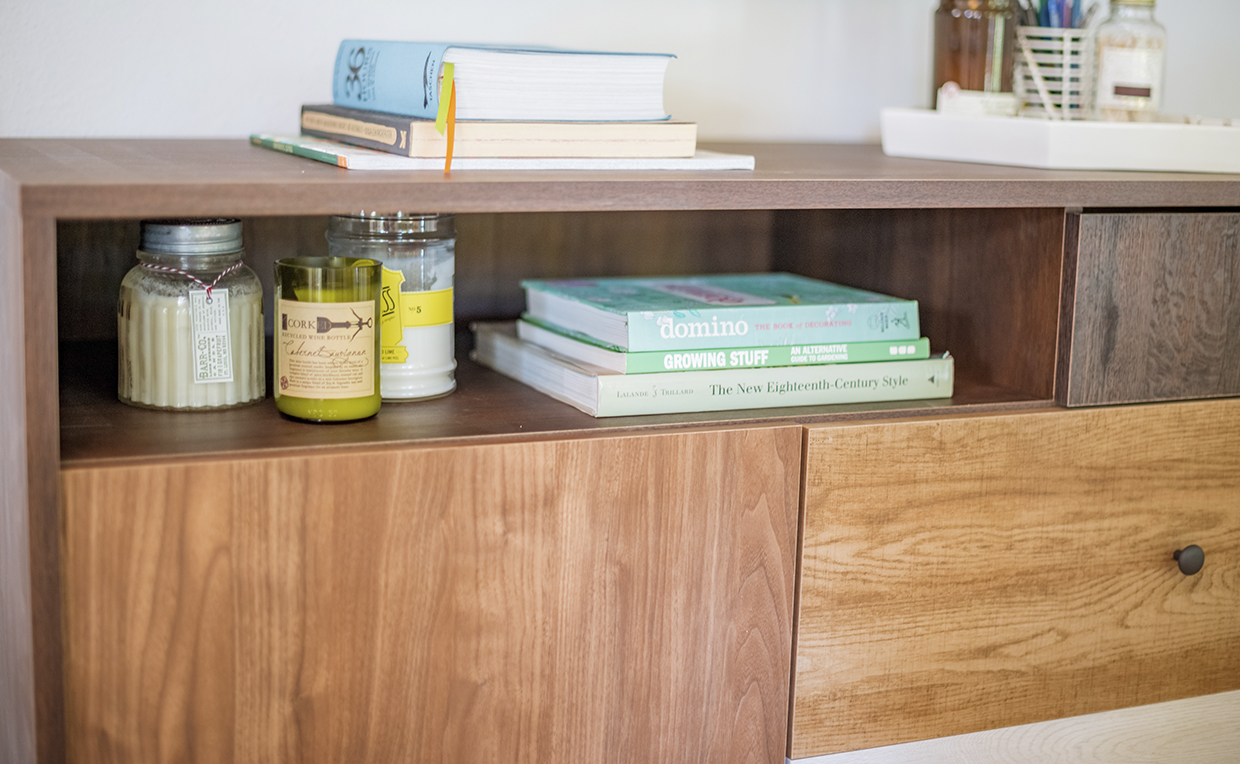 The open shelves of the Eden Rue Credenza give Colleen options for storage.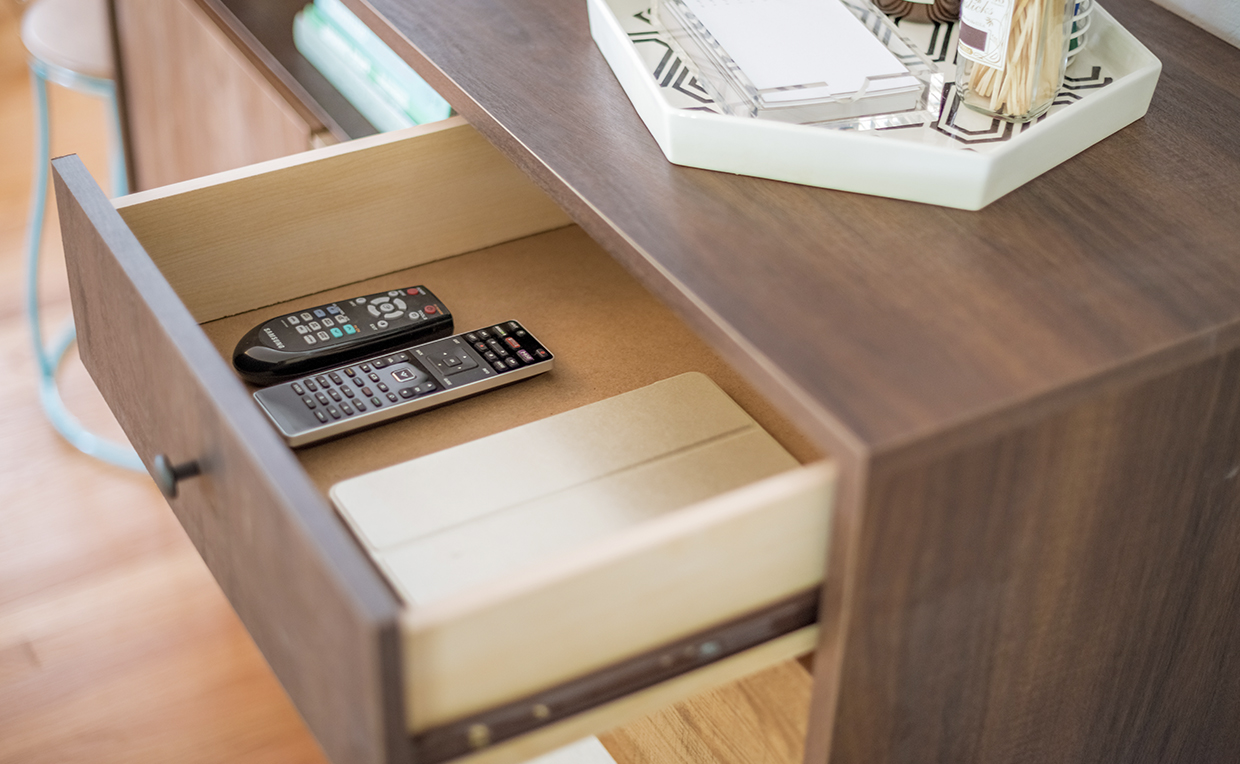 FAN FAVE:
Maybe it's the Vanishing Drawer of the
Dakota Pass Anywhere Console
that makes it a top pick. Maybe it's the three distinct
finishes. Or maybe it's because it can go anywhere, including under a mounted television. We're not judging.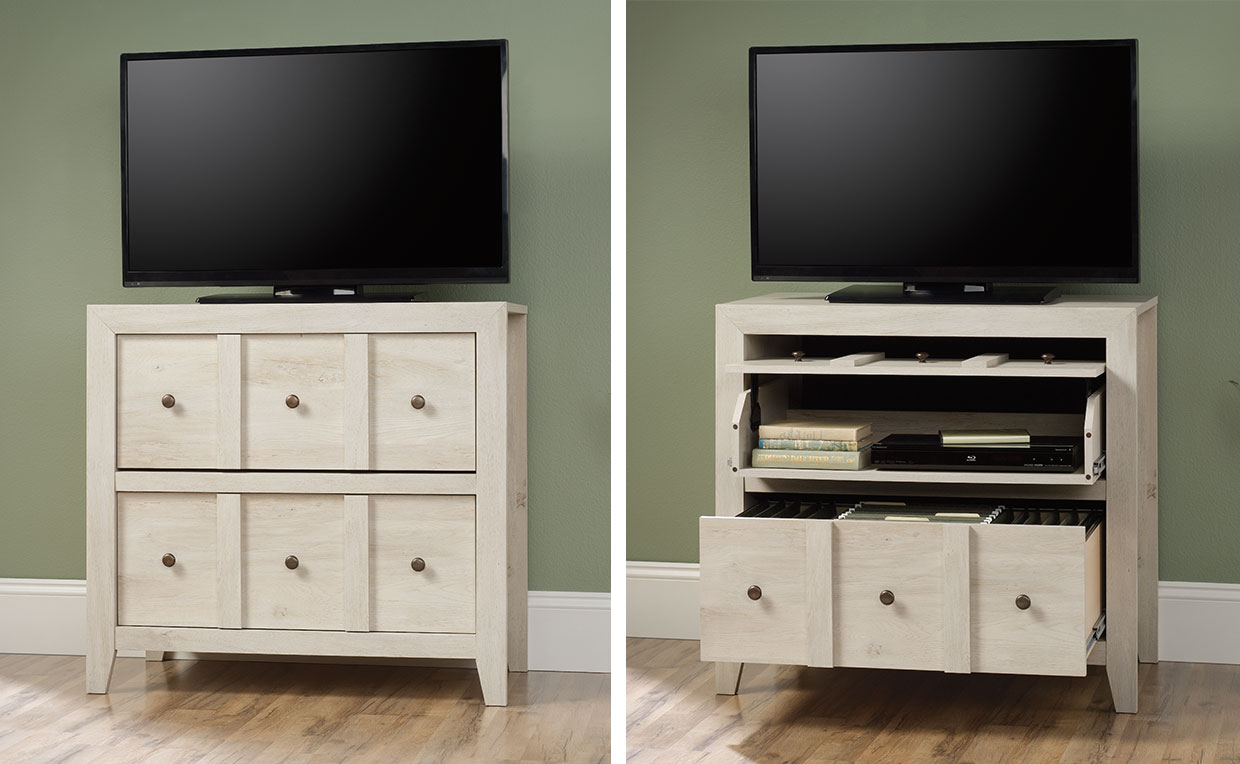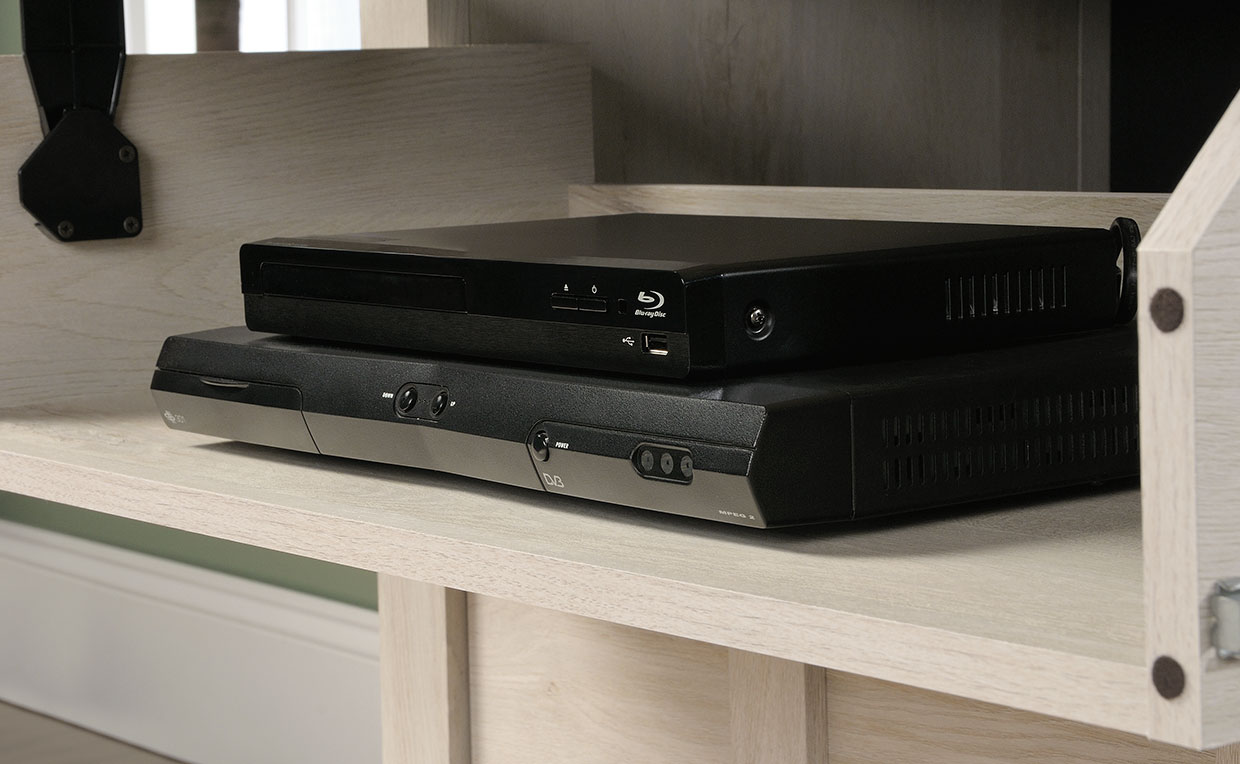 If your TV is placed on your entertainment stand …
Start by measuring your TV screen diagonally to ensure you select a piece that's the right size. If space allows, select an entertainment stand that gives you room to grow as you upgrade to a bigger screen in the future.
FAN FAVE:
The
International Lux Console
is finished on all sides so you can pick how to position it in your room. The modern entertainment stand holds up to a 60-inch TV.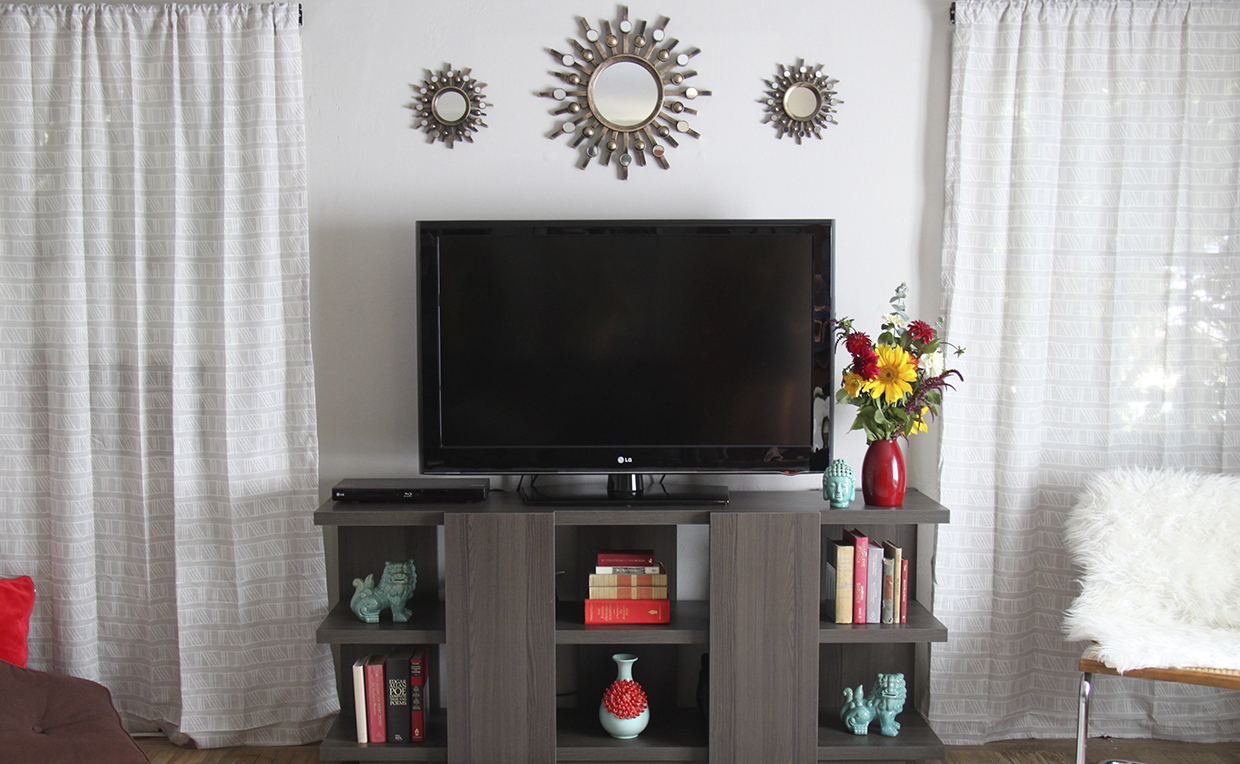 3. Do you want storage or display? Or a mix of both?
If storage is what you seek …
Three words: Doors. And. Drawers. Stow DVDs, games, remotes, controllers or whatever else you need to store behind closed doors. Use bins and baskets to keep it all organized.
FAN FAVE:
The Sauder Select Credenza
holds up to a 60-inch TV and has ample storage (including a hidden drawer!) behind closed doors.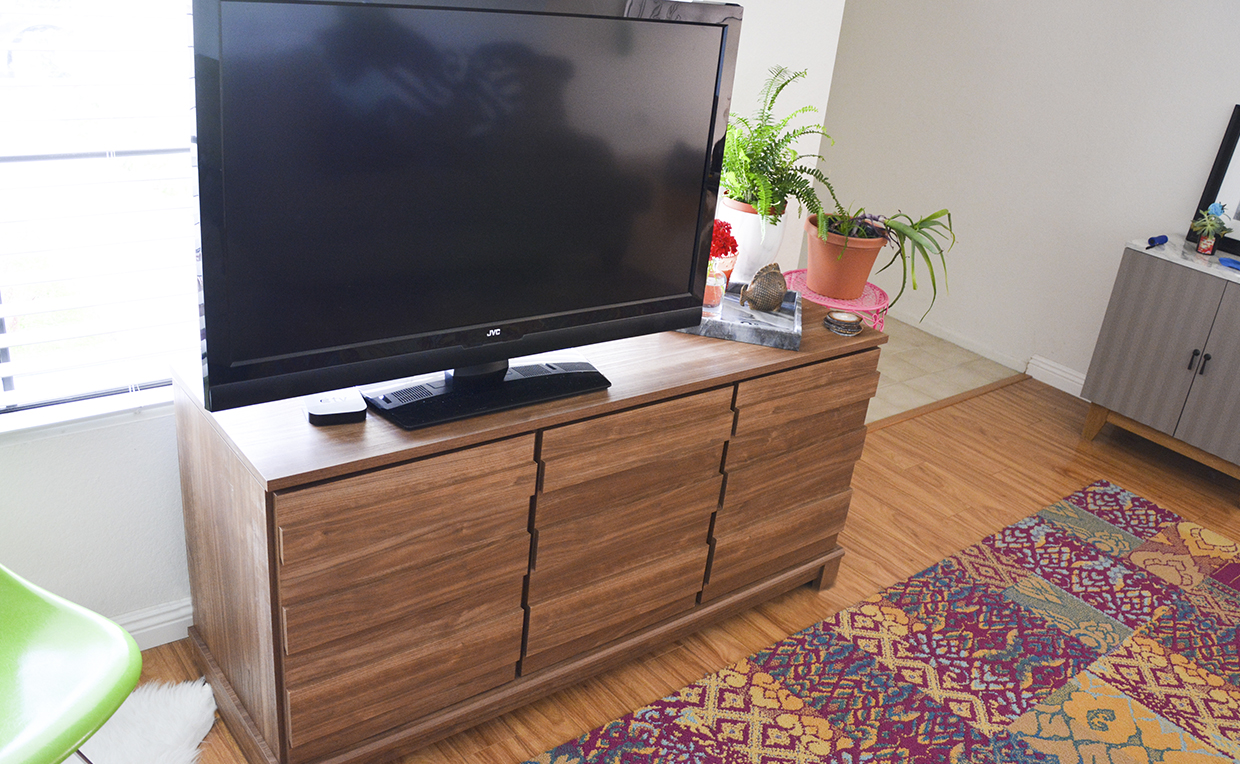 Photo courtesy: Sharon Garofalow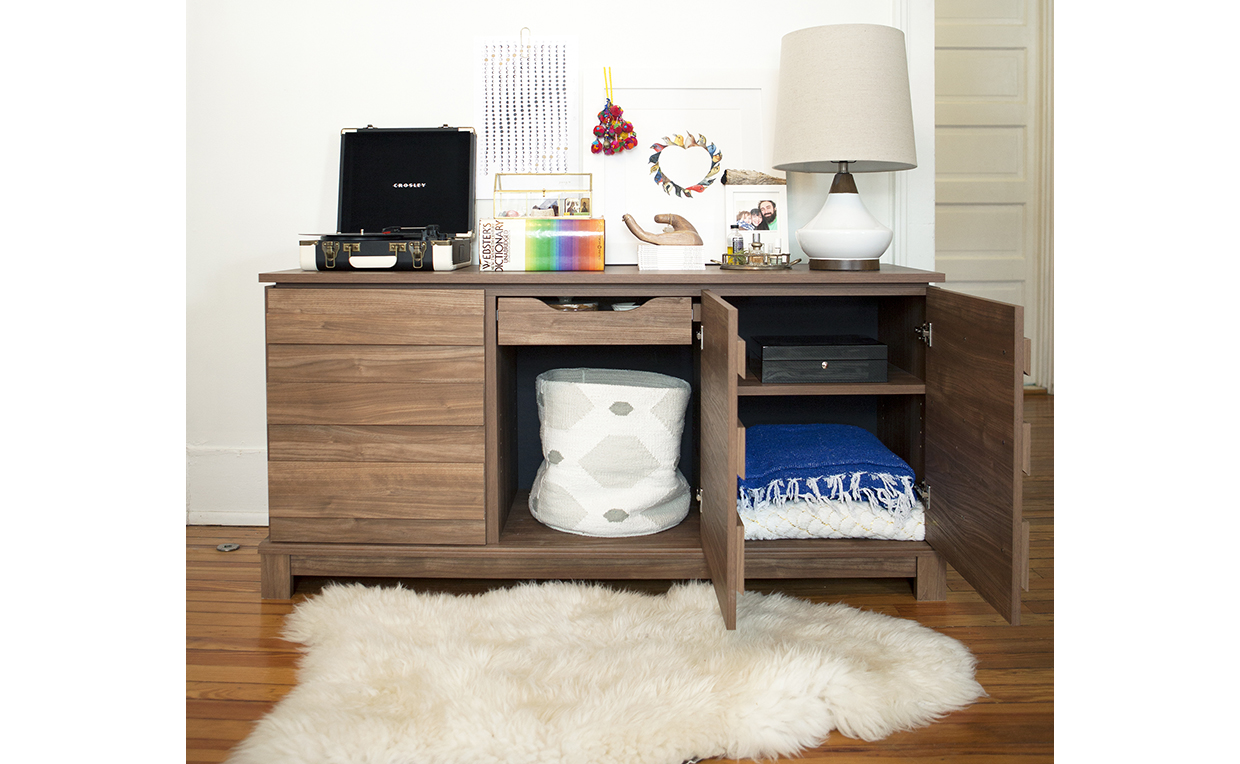 Adjustable shelves, doors and a hidden drawer make the Soft Modern Credenza great for living room storage, with or without a TV. Photo courtesy: Lana Katsaros
If you're looking for display …
Find an entertainment stand with open shelves to show off your stuff.
EXPERT PICK:
Shannyn Allan of
Frugal Beautiful
loves showing off her style with the
Canal Street TV Stand
next to the
Canal Street 5-Shelf Bookcase
. The open, industrial shelves give her plenty of room to decorate and display her favorite things.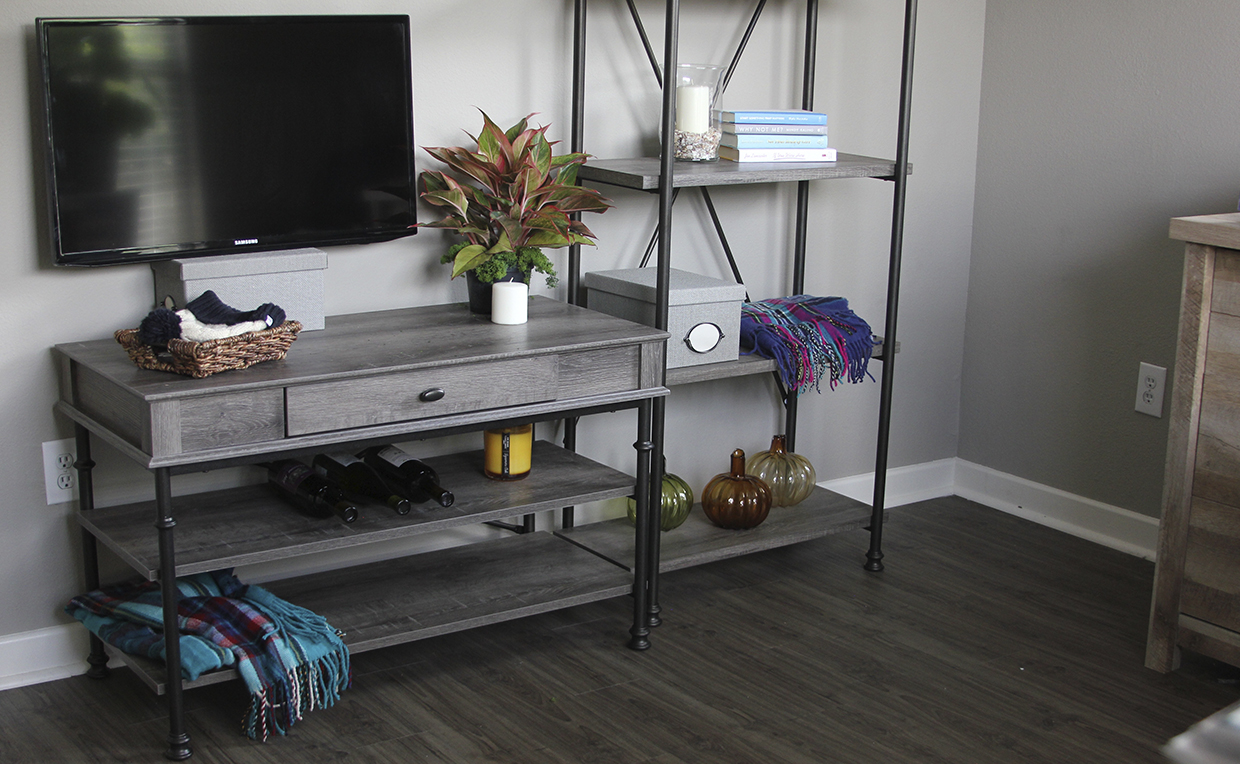 If you want storage and display …
Go with glass doors on a
display cabinet
. Glass doors display your favorite items and let remotes and other electronics function properly but still keep everything contained. Yes; you can have your cake and eat it, too.
FAN FAVE:
The
Dakota Pass Display Cabinet
features a rustic style and ID label tags. It holds up to a 42-inch TV.